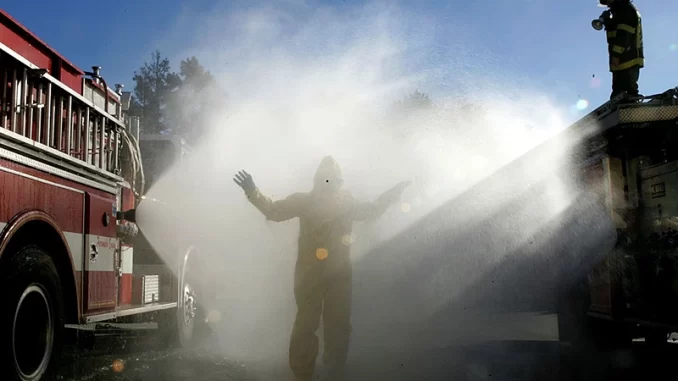 OAN Roy Francis
10:13 AM PT – Wednesday, February 15, 2023
An Arizona highway was closed in both directions on Tuesday after a deadly rollover that resulted in a spill of nitric acid.
A truck carrying nitric acid rolled over on the Arizona I-10 in Tucson, Arizona, resulting in a spill of the toxic material. A yellow cloud could be seen as a result as far as half a mile away.
An evacuation had been ordered for anyone within half a mile of the scene. On Tuesday, a shelter in place order had also been issued.
The shelter in place order was reinstated on Wednesday morning by the Arizona Department of Public Safety for a one-mile perimeter around the spill.
Commuters are advised to avoid the area of the spill and look for alternate routes of travel.
The Arizona DPS has also advised anyone within one mile of the incident to turn off heaters and air conditioners which ventilate outside air into their homes or vehicles.
The University of Arizona Tech Park was evacuated and schoolchildren in Rita Ranch were among those under the shelter in place orders.
The only reported fatality of the rollover was the driver of the truck that had been transporting the nitric acid.
Nitric acid is used for manufacturing of ammonium nitrate for fertilizer, it is also used to make plastics and dyes.
According to the Center for Disease Control and Prevention, exposure to nitric acid can cause "irritation to the eyes, skin, and mucous membrane; it can cause delayed pulmonary edema, pneumonitis, bronchitis, and dental erosion."