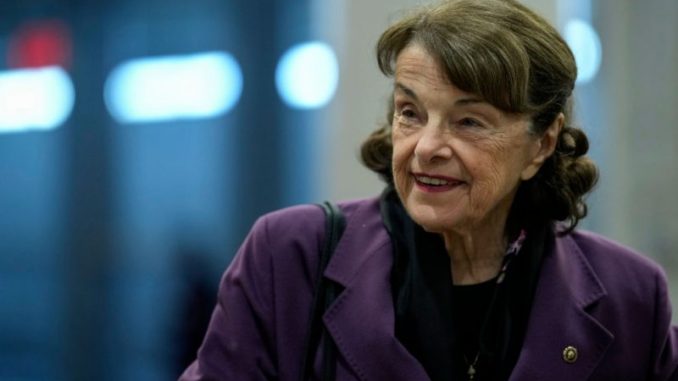 OAN Geraldyn Berry
1:22 PM PT – Tuesday, February 14, 2023
Senator Dianne Feinstein said in a statement on Tuesday that she will leave Congress at the end of 2024. She has spent over three decades in the Senate and more than 50 years in public service.
For the first time in decades, Feinstein's (D-Calif.) California Senate seat is now available as a result.
"I am announcing today I will not run for reelection in 2024 but intend to accomplish as much for California as I can through the end of next year when my term ends," Feinstein said.
The 89-year-old's retirement will mark the end of a career in which she has pushed for stricter gun legislation. She was a strong supporter of the assault weapons ban that former President Bill Clinton signed into law in 1994, and has continued to do so ever since the ban's expiration in 2004.
Additionally, Feinstein had long been a supporter of the advancement of LGBTQ+ rights, and same-sex marriage. She supported the Supreme Court's decision to legalize homosexual marriage despite being one of just 14 senators to vote against the Defense of Marriage Act in 1996.
When President Barack Obama had been in office, she presided over the Senate Intelligence Committee and oversaw a six-year investigation into the CIA's detention and interrogation strategy put in place following the terrorist attacks of September 11, 2001. This investigation resulted in legislation outlawing the use of these strategies.
The Democrat has had a reputation for attempting to compromise with Republicans, which occasionally drew ire from her party's more liberal members. She grew apart from them, for instance, on a variety of things like  single-payer, government-run health care and the Green New Deal climate proposal.
Feinstein served as San Francisco's first female mayor before being elected to the Senate in 1992. Before that, she was a member and president of the city's Board of Supervisors. After the murders of Harvey Milk, the first openly homosexual public official in California, and city supervisor George Moscone, she was elected mayor. After Milk was shot, Feinstein was the first to discover his body.
After having been elected to the Senate for the first time in 1992, Feinstein is currently the senior senator from her state and has held the position for the longest.