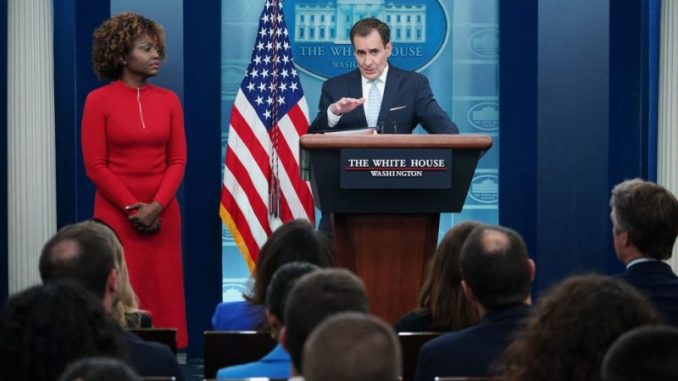 OAN Geraldyn Berry
2:09 PM PT – Monday, February 13, 2023
The White House held a press conference on Monday in regards to the fourth downed "spy" balloon.
In the past few days, U.S. officials had confirmed that four "alleged" Chinese balloons have been shot down over the Atlantic Ocean, the coast of northern Alaska, Lake Huron and in the Yukon territory in Canada.
Concerns regarding extraterrestrial or alien life were addressed by Karine Jean-Pierre, the White House press secretary.
"I just wanted to make sure we address this from the White House: I know there have been questions and concerns about this but there is no again no indication of aliens or extraterrestrial activity with these recent takedowns," Jean-Pierre said.
Oversees Strategic Communications for the National Security Council John Kirby claimed that the device was a component of the People's Republic of China's high-altitude balloon program for intelligence gathering.
"We assessed that at this time, these balloons have provided limited additive capabilities to the PRC's other intelligence platforms used over the United States," he said.
Kirby said that the balloons were shot down "out of an abundance of caution" for "our security, our interests, and flight safety."  He added that the missions had been completed "successfully and safely" and that efforts to recover the object are still underway.
The fourth Chinese surveillance balloon is said to have looked different. According to two U.S. officials, the balloon is an octagonal in shape.
"I'm not able to categorize how they stay aloft. It could be a gaseous type of balloon inside a structure or it could be some type of propulsion system. But clearly, they're able to stay aloft," NORAD Commander Gen. Glen VanHerck said Sunday.
The three objects were unmanned, unable of "maneuvering or having any propulsion capability," and not sending any communications.
During the briefing, it was announced that President Joe Biden had appointed National Security Adviser Jake Sullivan to head "an interagency team to study the broader policy implications for detection, analysis, and disposition of unidentified aerial objects that pose either safety or security risks."
The group reportedly includes Secretary of State Antony Blinken, Secretary of Defense Lloyd Austin, and Director of National Intelligence Avril Haines, has been tasked with engaging "their relevant counterparts to share information and to try to gain their perspectives as well."
The Biden administration has been pushed by lawmakers on Capitol Hill to release additional information about the objects. According to a Senate staffer, all senators will receive a secret briefing regarding China on Wednesday.