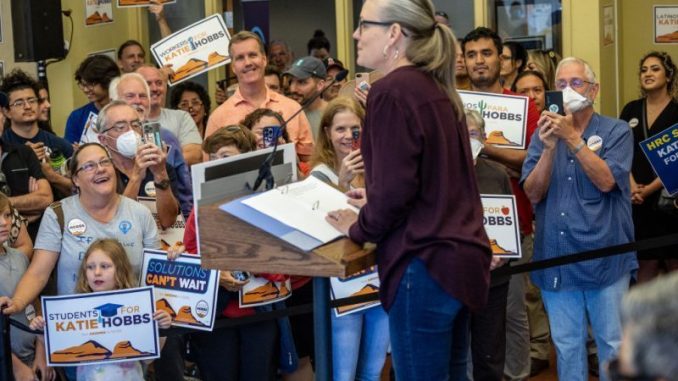 OAN Deven Berryhill
UPDATED 12:43 PM PT – Monday, February 13, 2023
Newly elected Arizona Governor and Seton Catholic High School graduate Katie Hobbs revealed in this week's State of The State address that she opposes the newly expanded school voucher program.
According to sources, Gov. Hobbs (D-Ariz.) claimed to have had an experience in Catholic school that was "so important in her own life." 
In a recent Fox News interview, Hobbs claimed to have "begged her parent to send her to public school." She continued to throw her parents under the bus.
"We sacrificed a lot," she claimed. "We were on food stamps… it was a choice that they made… and they struggled to make that choice."
The current Arizona school voucher program was enacted last July by former Governor Doug Ducey (R-Ariz.). In the same Fox News interview, Hobbs tried to hide behind the expansion stating that the evidence doesn't support the current voucher expansion.
"We're not calling for a repeal of the entire program, we're just calling for a repeal of the universal expansion," Hobbs said on Fox News with Shannon Breen. "The folks President Peterson cited … they're not actually benefitting from this program, there's no evidence showing that. For the most part, these families, regardless of getting a private school voucher, they're not able to afford the gap in tuition that exists with this program."
Paul E. Peterson, the Director of the Center for American Political Studies at Harvard University and the author of Learning from School Choice recently spoke on the topic during a PBS Frontline interview.
 "We've studied vouchers: whether or not they seem to help kids, and whether or not families like them and what it's like to go to school if you do have a voucher. And we find that the low-income families who participated in our studies tell us that the discipline is much better. There's less fighting. There's less cheating. There's less racial conflict. There's more tolerance for children from other backgrounds," he said. "We find that the classes are smaller, that the students say they like their teachers better. There are just a lot of good reports coming back from parents. Now, when inner city, low-income families tell me they're a lot happier if they have a choice as to where their child is going to go to school, I think it's time for the rest of us to sit up and listen." 
Private school advocates claim that public schools have failed them. Advocates also claim that school vouchers will bring competition and help bolster the failing public school system.