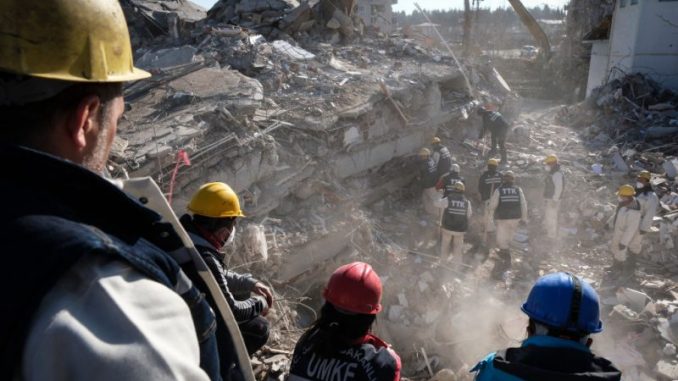 OAN Deven Berryhill
UPDATED 12:43 PM PT – Monday, February 13, 2023
The official death toll figures from last week's magnitude 7.8 earthquake in Turkey and Syria continue to rise above 37,000. 
Al Jazeera has reported at least 37,000 official deaths have been counted with only half the bodies identified in the official death toll. There are approximately 35,000 Turkish relief workers along with 10,000 personnel from 75 countries involved in the relief effort. In the last day or two, only a handful of bodies had been pulled from the rubble.  Some aid workers have blamed slow recovery efforts on a lack of heavy machinery available.
Anger in the region has intensified as some have become critical of the Turkish Government's lack of earthquake preparedness. Turkey's Environment Minister Murat Kurum confirmed that almost 25,000 buildings were destroyed by the quake and its aftershocks.
In response to the growing anger, Turkish Vice President Fuat Oktay is reported to have said that the government has identified and arrested over 100 workers and developers for shoddy and illegal construction.
Since the quake, many heroic rescue stories have immerged. 150 hours after the initial destruction, Pediatrician Dr. Fahrettin Koca and his team recovered and successfully life flighted a little girl to the hospital for treatment.  Another doctor in the region said on Twitter, "Perhaps the only thing functioning well in this process was our health system, our physicians. Thousands of doctors and nurses rushed to the earthquake zones before the 24 hours were up. Thousands of our wounded were transferred to almost all hospitals in the country very quickly, their treatment continues. Congratulations."
The U.S. Agency for International Development has reported that the U.S. Air Force has shipped more than 5,700 tons of disaster aid and life-saving equipment.