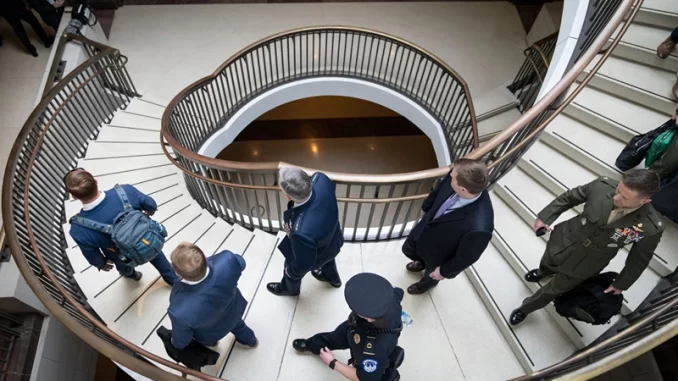 OAN Roy Francis
9:55 AM PT – Thursday, February 9, 2023
According to senior officials in the Biden administration, the Chinese balloon that had flown across the United States then ultimately shot down over the Atlantic, had been operating with surveillance technology.
The technology that the balloon operated with was capable of monitoring U.S. communications and "conducting signals intelligence collection operations."
Signals intelligence operations are information gathering exercises that are conducted by electronic means for information such as electronic communications and radar operations.
It was determined that the manufacturer of the balloon has direct ties to the Chinese military. The balloon also had been equipped with large solar panels that powered the intelligence collection sensors.
The craft was also a part of a fleet that had been operating over "more than 40 countries across five continents."
"We know the PRC used these balloons for surveillance," the officials said. "High resolution imagery from U-2 flybys revealed that the high-altitude balloon was capable of conducting signals intelligence collection operations."
Despite this revelation about the balloon's capabilities, the Pentagon has maintained that the craft does not give China any other capabilities than what they already have from satellites and other means.
General Glenn VanHerck, commander of the U.S. Northern Command and North American Aerospace Defense Command, commented on the Pentagon's assessment of the balloon.
"We did not assess that it presented a significant collection hazard," he said. "Beyond what already exists in actionable technical means from the Chinese."
This information was revealed after officials from the Pentagon, State Department, and intelligence community briefed lawmakers on Capitol Hill on Thursday morning.
The new information caused more criticism and backlash for the Biden administration for allowing the balloon to float above the U.S. for as long as it did while it had been equipped with surveillance technology.
Officials also claimed that the "Chinese had appeared to stop" transmitting information as soon the balloon was discovered. They went on to say that the equipment recovered from the downed balloon would be beneficial for the U.S. intelligence committee moving forward.
State Department officials stated that the U.S. has been exploring sanctions and possible actions against the government-linked organizations that have been involved in China's balloon and broader surveillance programs.
The Biden administration has been considering adding six more Chinese government-backed companies with ties to the Chinese surveillance program to the Commerce Department's entities list, which will impose barriers to conducting business with them.
The timing of any action against the Chinese-backed organizations have not been clarified by the Biden administration. However, State Department officials pointed out that the objective of any retaliation will be to expose and address China's surveillance activities.