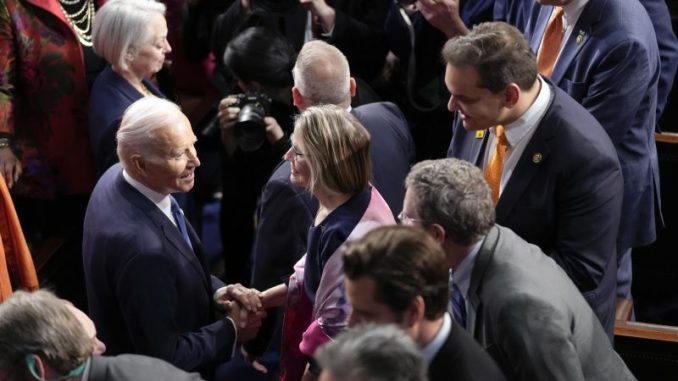 OAN Geraldyn Berry
2:11 PM PT – Wednesday, February 8, 2023
A tense exchange between Rep. George Santos and Sen. Mitt Romney occurred in the House of Representatives chamber Tuesday night before President Joe Biden's State of the Union address.
2012 GOP presidential nominee Romney (R-Utah) made remarks to the disgraced representative as he walked into the House chamber.
Romney said to Santos, "You ought to be embarrassed" and that he did not belong in the Capitol. 
A source close to the pair during the exchange said that they heard Santos calling Romney an "a**hole" in return. After the speech, Santos tweeted to Romney.
The Utah Senator told reporters that he criticized Santos (R-N.Y.) for standing in the front aisle "trying to shake hands" with the president and senators "given the fact that he's under an ethics investigation.
"He says he, you know, that he embellished his record. Look, embellishing is saying you got an A when you got an A-," Romney said. "Lying is saying you graduated from a college that you didn't even attend and he shouldn't be in Congress."
Santos told reporters that the comments Romney made were "not very Mormon of him." He took offense the fact that Romney had allegedly told him to "shut up and go to the back of the room."
This comes as Santos is the subject of investigations by federal and state prosecutors in New York, and the Federal Election Commission and the House Ethics Committee.
All have received complaints regarding his campaign's spending. The 34-year-old has been caught lying about the schools he has attended, his employment history and his family's background.
Federal authorities are also looking into his finances, including claims that Santos stole $3,000 from a GoFundMe effort to save a veteran's dying dog.
In addition, he has been accused of sexual harassment by a former employee. All these allegations, the New Yorker has vehemently denied.
Even though in November he had helped Republicans win a slim majority in the House by flipping a Democratic seat in a redistricted district, Santos is being called to step down from Congress.