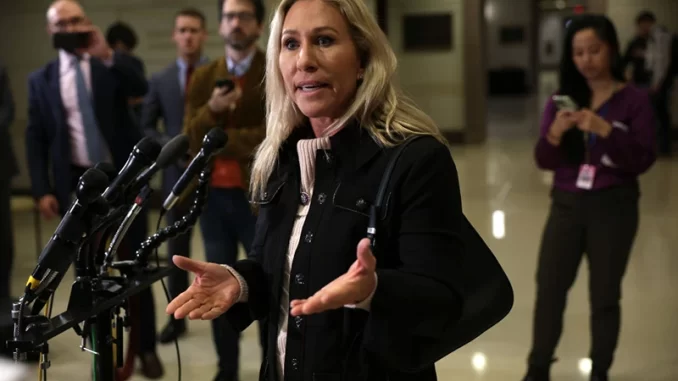 OAN Roy Francis
UPDATED 7:26 AM PT – Saturday, February 4, 2023
A New York man pleaded guilty to making threats towards Republican Congresswoman Marjorie Taylor Greene.
Federal prosecutors announced that Joseph Morelli, 51, admitted to making several phone calls to the Washington D.C. office of Greene (R-Ga.) in which he threatened to harm her.
According to prosecutors, Morelli had left voice messages in which he said "I'm gonna hurt you. Physically, I'm gonna harm you."
In second message that he left, he said that he is going to "pay someone 500 bucks to take a baseball bat and crack your skull," he went on to say that he would "make sure that, even if they lock me up, someone's gonna get you 'cause I'll pay them to."
According to an FBI agent's affidavit Morelli had said that "I think I'm gonna have to show you, to your face, right up front, what violence truly is and I don't think you're gonna like it."
In total he had left seven threatening voice messages to the Congresswoman. The 51-year-old was indicted in April 2022 on charges of transmitting interstate threatening communications.
According to the United States Attorney's Office, at the sentencing which is scheduled for Jun 2023, "Morelli faces up to 5 years in prison, a fine of up to $250,000, and a term of supervised release of up to 3 years."
The congresswoman said that a man who had threatened and planned to kill her is able to await his trial at home, while people from January 6 are "rotting in jail pretrial."
She went on to say that there have been multiple people who had threatened her life, but it has not been reported by the media.