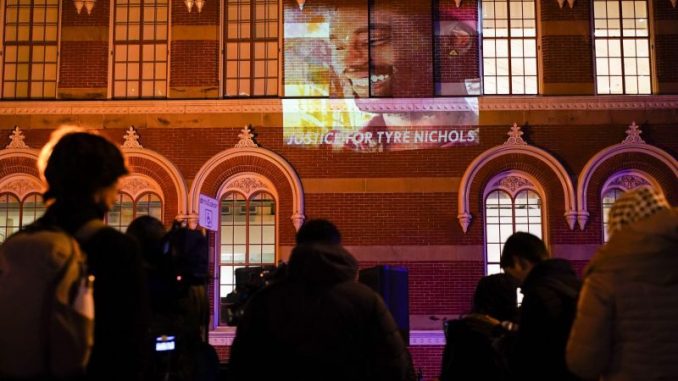 OAN Geraldyn Berry
UPDATED 12:13 PM PT – Monday, January 30, 2023
A sixth Memphis police officer has been discharged following the traffic stop that resulted in Tyre Nichols' death, Memphis police Maj. Karen Rudolph has announced.
On Monday, Preston Hemphill was "relieved of duty" amid an ongoing investigation. During the incident, he was reported as the alleged officer on the released video, firing a stun gun at Nichols.
"Officer Hemphill is relieved of duty. This is an ongoing investigation. Once additional information is available, we will update our social media platforms. Hemphill was hired in 2018," Rudolph said.
29-year-old Nichols was hospitalized in critical condition and died three days after a fatal January 7th traffic stop.
Police claimed that once Nichols fled, they tracked him and eventually caught up with him. He was apprehended and after the series off events, authorities said that Nichols "complained of having a shortness of breath." 
Numerous police recordings made public on Friday, depicted the officers striking Nichols with a baton, punches, and kicks.  A public outrage ensued, and the officers involved were subsequently "relieved of duty." The officers were Tadarrius Bean, Demetrius Haley, Emmitt Martin III, Desmond Mills, Jr., and Justin Smith.
Before the films' release, Memphis Police Chief Cerelyn Davis had denounced the officers' actions, calling their conduct "unconscionable."
United States Attorney for the Western District of Tennessee, Kevin G. Ritz, made an announcement that the Department of Justice and the FBI's Memphis Field Office were investigating whether or not the police officers involved violated Nichols' civil rights.
"State authorities have publicly announced that the Tennessee Bureau of Investigation is investigating," Ritz said in a statement. "In addition, the United States Attorney's Office, in coordination with the FBI Memphis Field Office and the Civil Rights Division of the Department of Justice, has opened a civil rights investigation."
The dismissed Memphis police officers were charged with second-degree murder, aggravated assault, aggravated kidnapping, official misconduct, and official oppression last week.
The police team involved in the incident, which included five Black officers, have been disbanded. They were all fired and charged with murder and kidnapping.