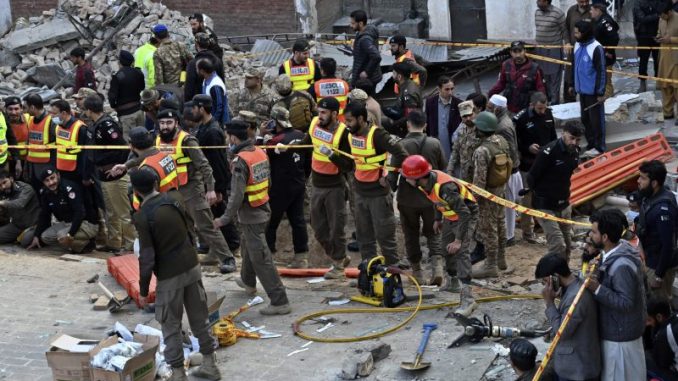 OAN Geraldyn Berry
UPDATED 1:41 PM PT – Monday, January 30, 2023
59 people are dead and over 157 are wounded after a suicide bomber attacked a crowded mosque in Peshawar, Pakistan. The explosion had caused the roof of the police compound to collapse.
Numerous individuals had gathered to offer prayers before the bomber detonated his package.
A majority of the victims from the Monday attack were police officers. It is reportedly unclear how the bomber was able to compromise the walled compound.
The terrorist organization, also known as Tehreek-e-Taliban Pakistan or TTP, is distinct from the Afghan Taliban but a close associate of that organization. The group wanted Islamic laws to be strictly enforced, its detained members to be freed, and less Pakistani military presence in the Khyber Pakhtunkhwa province, which it has long used as a stronghold.
Commander for the Pakistani Taliban, Sarbakaf Mohmjand, claimed responsibility for the attack on Twitter. He said that the blast was "revenge" for the death of his brother, TTP militant Khalid Khorasani, last year.
"We have found traces of explosives," Peshawar Police Chief Ijaz Khan said.
Although it has not been confirmed, it is reported that 7KG explosives used in the attack.
Afghanistan's Foreign Ministry condemned the attacks on worshippers as contrary to the teachings of Islam.
Prime Minister Shahbaz Sharif visited the injured and vowed "stern action" against those behind the bombing.
Following the claim to the mosque suicide bombing, the Twitter accounts of TTP leaders Mukarram Khurasani and Sarbakaf Mohmand have been suspended.
The attack on a Sunni mosque within the police base on Monday was among the deadliest on security personnel in recent memory.