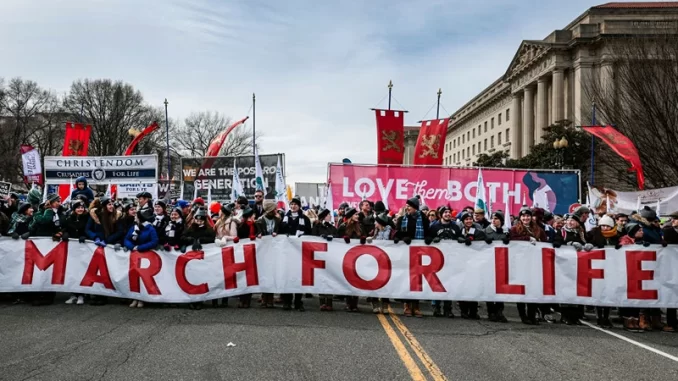 OAN Roy Francis
UPDATED 7:59 AM PT – Friday, January 20, 2023
The 50th annual March for Life rally is set to take place in Washington D.C. on Friday.
The first March for Life took place in the nation's capital in 1973 after the Supreme Court had given protection for abortion access nationwide up until fetal viability.
This rally will be the first March for Life to take place since the Supreme Court had overturned Roe last year in the Dobbs v. Jackson Women's Health Organization, essentially leaving individual states to regulate abortions.
Chuck Donovan, president of the Charlotte Lozier Institute and who has worked in the pro-life for over 50 years, addressed the overturning of Roe saying that it is only the beginning of the pro-life movement.
"The reversal of Roe is not the end of our fight but a new beginning," Donovan said. "Where once we dreamed of passing laws and public policies to save the lives of the unborn, now we have dozens of states across the country, as well as opportunities at the federal level, where the steps we take will mean life or death for millions of babies as well as support or neglect for their mothers."
Politicians and celebrities are set to join the rally. Some of those celebrities include Super Bowl-winning coach Tony Dungy, and actor Jonathan Roumie.
House Majority Leader Steve Scalise (R-La.), Mississippi Republican Attorney General Lynn Fitch, Representative Chris Smith (R-N.J.), and state representative Trenee McGee (D-Conn.) are also joining the rally.
President of March for Life, Jeanne Mancini, said the movement has to increase its efforts, since the Roe decision was overturned, to protect the unborn and assist pregnant women.
"This year's march will reflect upon the Dobbs decision as a critical and celebratory milestone but will also be a time to look forward to the next steps, such as the need to continue marching annually in Washington, D.C., as well as expanding marches in the states, to advance legal protections for the unborn," she said. "Those next steps also include supporting the pregnancy resource centers and maternity homes, which are the hands and feet of the pro-life movement, providing support and resources to women in need who want to choose life."
One point that the rally will emphasize is not marching to the steps of the Supreme Court anymore like before, but to march to the steps of the United States Capitol building.