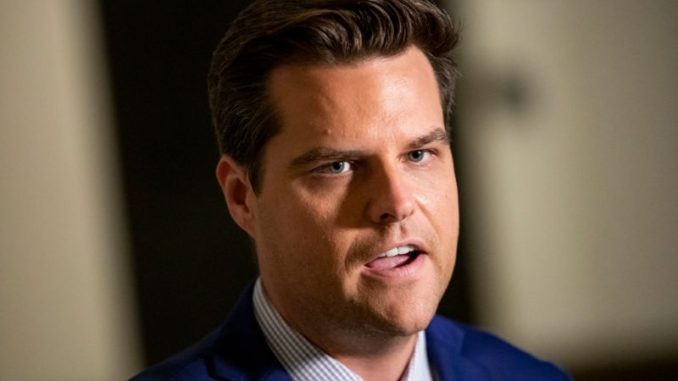 OAN Roy Francis
UPDATED 12:07 PM PT – Wednesday, January 18, 2023
Florida Representative Matt Gaetz introduced a bill to eliminate the Bureau of Alcohol, Tobacco, Firearms and Explosives (ATF) follow a ruling on pistol stabilizing braces.
On Friday, ATF issued its final ruling. The organization announced that they will treat guns with stabilizing braces the same as short-barreled rifles. This will make them essentially illegal to own under the National Firearms Act, unless a federal license is acquired.
Matt Gaetz (R-Fla.) has criticized the ruling and Attorney General Merrick Garland, who said that the rule enhances public safety. The Republican said that the rule unfairly punishes disabled gun owners and those who rely on stabilizing braces to be able to fire with one hand.
Gaetz said that the rule was the "final straw" and proceeded to introduce H.R.374, the "Abolish the ATF Act" on Tuesday morning.
In a phone interview on Wednesday morning, the Republican explained the reasoning behind his action and pushing forward his new bill.
"I have a lot of disabled veterans in my district who enjoy pistol shooting and rely on stabilizing braces to be able to engage in the activity," he said in a phone interview Wednesday morning. "The recent actions from the ATF essentially allow them to make case-by-case determinations on whether a pistol with a stabilizing brace is legal or an unlawful, sawed-off shotgun."
According to the ATF the new rule does not affect the braces that are "objectively designed and intended as a 'stabilizing brace' for use by individuals with disabilities, and not for shouldering the weapon as a rifle."
"The people at the ATF making these rules fundamentally don't understand firearms. The continued existence of the ATF is increasingly unwarranted based on the actions they're taking to convert otherwise law-abiding people into felons," Gaetz said. "My bill would abolish the ATF. If that doesn't work, we're going to try defunding the ATF. If that doesn't work, we're going to target the individual bureaucrats at the top of the ATF who have exceeded their authority in rulemaking. And if that doesn't work, we're going to take a meat cleaver to the statutes that the ATF believes broadly authorize their actions."
Gaetz's bill has been referred to the Judiciary Committee but does not have any cosponsors yet. However, he said he's not worried because there's "broad support" among republicans "to go after the actions of ATF."