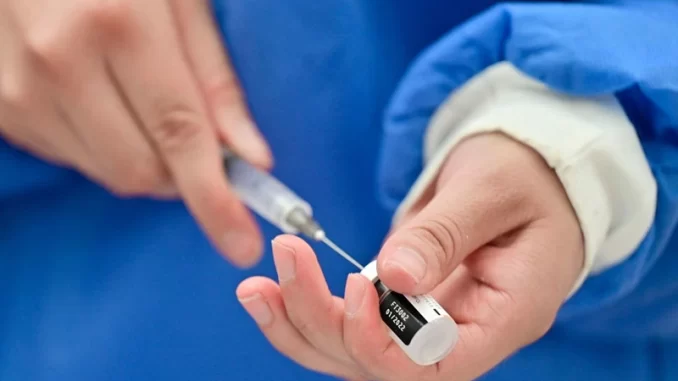 OAN Annytama Bhowmik
UPDATED 6:48 PM PT – Tuesday, January 17, 2023
According to the Centers for Disease Control, a preliminary COVID-19 vaccine "safety signal" has been identified. It is being examined whether the Bivalent Pfizer-BioNTech vaccination raises the risk of ischemic stroke in those 65 and older.
The CDC has reported that one of its "near real-time surveillance systems," known as the Vaccine Safety Datalink, had found a potential rise in a specific type of stroke among adults 65 and older who had recently received one of Pfizer's revised booster injections.
"Rapid-response investigation of the signal in the VSD raised a question of whether people 65 and older who have received the Pfizer-BioNTech COVID-19 Vaccine, Bivalent were more likely to have an ischemic stroke in the 21 days following vaccination compared with days 22-44 following vaccination," the agency said.
House Energy and Commerce Chair Cathy McMorris Rodgers (R-Wash.) responded to the statement by announcing that the CDC and FDA would appear before her committee.
"These agencies must rapidly investigate, in an open and transparent manner, whether or not the vaccine may have contributed to the reported strokes. If there's one lesson that the CDC and FDA should have taken away from the pandemic, it's the importance of providing honest, clear, precise, and timely information to the American people about the potential risks and benefits of COVID-19 interventions, including vaccination," Rodgers said.
The announcement comes as the Biden administration is actively promoting the improved vaccine to senior citizens in the United States.
The organization added that there has not been a rise in the number of ischemic strokes reported to the Vaccine Adverse Event Reporting System (VAERS), which is run by the CDC and FDA.
A Pfizer spokesperson spoke to Fox News Digital.
"Pfizer and BioNTech have been made aware of limited reports of ischemic stroke that have been observed in the CDC Vaccine Safety Datalink (VSD) database in people 65 and older following vaccination with the Omicron BA.4/BA.5-adapted bivalent COVID-19 Vaccine by Pfizer and BioNTech. Neither Pfizer and BioNTech nor the CDC or the U.S. Food and Drug Administration (FDA) have observed similar findings across numerous other monitoring systems in the U.S. and globally and there is no evidence to conclude that ischemic stroke is associated with the use of the companies' COVID-19 vaccines," the spokesperson said.
However, Fox News medical expert Dr. Marc Siegel disapproves the "connection" between the vaccine and strokes. The CDC does not advocate altering the way vaccines are administered.