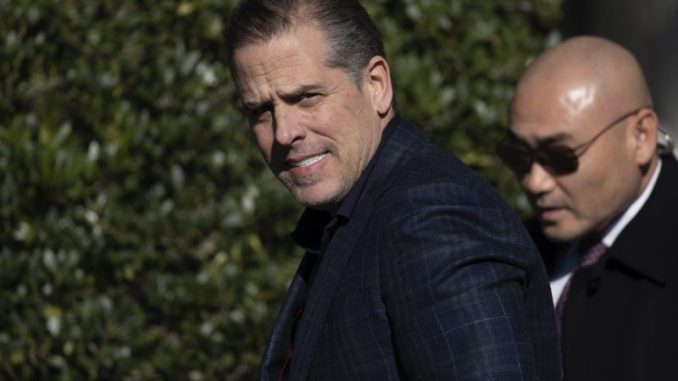 OAN Roy Francis
UPDATED 4:12 PM PT – Friday, January 13, 2023
Records show that Hunter Biden had lived at the Delaware house where the latest classified documents were found.
Hunter Biden had intermittently resided at the Delaware residence where sensitive records from Joe Biden's tenure as vice president were discovered last month, giving him unrestricted access to national security information while he struggled with drug addiction, worked on dubious international business deals, and was under federal investigation.
After divorcing his ex-wife Kathleen Buhle in 2017, the now-52-year-old started using the Wilmington house as his address. He even fraudulently claimed to be the owner of the property on a background check form used for a rental application in July 2018.
Hunter also listed the home as the billing address for his credit cards and Apple account in 2018 and 2019.
He struggled with a costly crack cocaine addiction around the same time period. Hunter was caught on camera in August 2018 pleading with his sister-in-law-turned-lover, Hallie Biden, to allow him to use credit card rewards to pay for a stay in rehab.
Former girlfriend of Hunter's, Zoe Kestan, said in her testimony to a federal grand jury in last year, that the two had spent a month in 2018 at the infamous Chateau Marmont hotel in Los Angeles, where the younger Biden claimed to have "learned how to cook crack" before being "blacklisted" from the establishment due to complaints about his drug use.
On Thursday, President Joe Biden confirmed that classified papers were found in the locked garage of the house, the same place he kept his vintage 1967 Corvette Stingray.
"My Corvette is in a locked garage, ok? So it's not like they're sitting out on the street," the president had said to reports.
The now-first son was included in an email from business partner James Gilliar regarding a partnership with Chinese state-backed energy giant CEFC China Energy on May 13, 2017, weeks after Hunter's divorce was finalized. Hunter's uncle James Biden would receive 10% of the new company, with the remaining 10% being "held by H for the big guy," according to Gilliar's email, which stated that he, Hunter, and two other business partners would each receive 20% of the company.
The next year, federal agents started probing whether Hunter and his business partners broke any money laundering and tax laws while conducting business in China and other nations. The laptop, which Hunter left at a Delaware repair shop in 2019 and never picked up, had emails and other documents pertaining to the transactions.
Recent reports indicate that investigators believe they have enough evidence to charge Hunter Biden with tax crimes as well as him lying about his drug habit in 2018 on a federal form so he could buy a gun.
Former Maryland United States Attorney Robert Hur was appointed by Attorney General Merrick Garland as special counsel to investigate how the classified documents had ended up at the private office and the president's Delaware home.