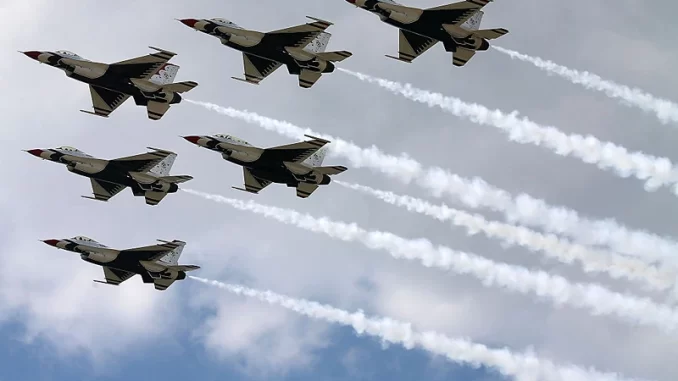 OAN Roy Francis
UPDATED 1:05 PM PT – Monday, January 9, 2023
The California National Guard has fired a top commander after reports claimed that he used troops for personal errands, and readied a fighter jet raising concerns.
After an internal disciplinary board substantiated several allegations against him, Brigadier General Jeffrey Magram is set to be "involuntarily transferred" to the United States Air Force retired reserve.
According to reports, a California National Guard spokesperson stated that this action is "parallel" to a firing.
Magram had enlisted in the California Air National Guard in 1985 and had made his way up to Brigadier General in 2019.
Probes into Magram's conduct found several instances where he had abused his power.
One instance found that he had readied a fighter jet for a "possible domestic mission" in 2020, raising concerns that it would be used on civilian protesters.
He had also used subordinates to carry out personal tasks, including having a Guard member drive him nearly 120 miles back and forth to a dental appointment.
Another report found that Magram had a subordinate take his mother on a grocery shopping trip.
"She was particular. When I say particular, it had to be at Whole Foods," the Guard member said. "It just took her a long time to decide what she wanted, a lot of comparison shopping amongst products."
Along with the several misconduct allegations, the general had failed to complete a mandatory cybersecurity training for about two weeks. He ultimately had a subordinate complete the training for him.
Magram did not deny the allegations, saying that he believed the trips were consistent with the Air Force's "wingman concept."
"I want to reiterate that had I ever heard of any ethics issues like this from subordinates, peers or commanders, or perceptions of such, I would have corrected or addressed it on the spot," Magram said in a statement.
Investigators refuted his statement saying that he had been previously counseled in 2017 for similar behavior.
"Your conduct has caused me to lose faith, trust, and confidence in your ability to continue serving," Major General Matthew Beevers, wrote in a memorandum to Magram.
This is now the fifth time a general has had to resign, retire, or be fired from the California National Guard in the last four years.