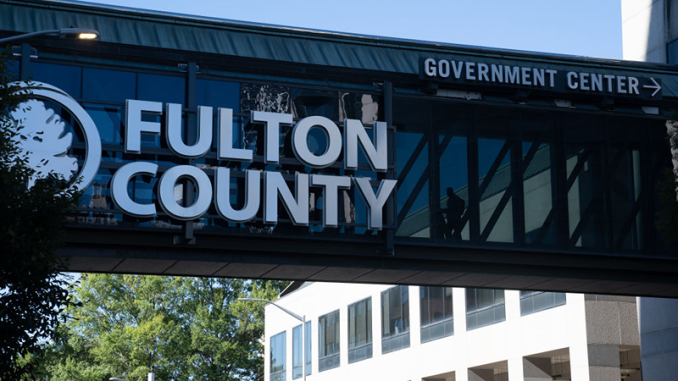 OAN Shannon Kelland
UPDATED 4:42 PM PT – Monday, January 9, 2023
The Fulton County grand jury has submitted its final investigation report into former President Donald Trump and his allies to the District Attorney Fani Willis, who will decide how to proceed.
For over six months, the grand jury had considered evidence and testimonies from witnesses. Their job has been to decide whether there were any "coordinated attempts to unlawfully alter the outcome of the 2020 elections" in the state by former President Donald Trump and his allies.
Witnesses included Trump's lawyer Rudy Giuliani (R-N.Y.), Senator Lindsey Graham (R-S.C.), and former White House Chief of Staff Mark Meadows. The men were questioned about their alleged involvement in efforts to overturn results in the Peach State.
On Monday, the decision was released.
Fulton County Superior Court Judge Robert McBurney, who supervised the panel, claimed that he reviewed the report. He also recommended to the court's chief judge that the special grand jury be dissolved because it had completed its work and submitted its report on its findings.
The grand jury was summoned to investigate "'the facts and circumstances relating directly or indirectly to possible attempts to disrupt the lawful administration of the 2020 elections in the State of Georgia and to prepare a report on whether anyone should be prosecuted for such potential crimes," McBurney restated in a ruling.
The final report has been approved and will go to District Attorney Willis in Fulton County who will then determine what, if any, indictments are charged. McBurney has set a hearing for January 24th to determine if the final report will be released to the public.
Willis reviewed Trump's phone call with Secretary of State Brad Raffensperger (R-G.A.) from January 2nd, 2021, where he allegedly urged the state's top election official to overturn Biden's win.
"All I want to do is this. I just want to find 11,780 votes, which is one more than we have. Because we won the state," Trump said in the call.
The 45th president repeatedly described his call with Raffensperger as "perfect." He additionally made it known how those on the call felt about it.
[They] "had no problems with the call, and didn't voice any objections or complaints about anything that I said on the call which could be construed as inappropriate," he stated.
In a February 2021 letter to state leaders, Willis launched a probe into the former president and those close to him who she claimed to be looking into potential crimes.
"Solicitation of election fraud, the making of false statements to state and local governmental bodies, conspiracy, racketeering, violation of oath of office and any involvement in violence or threats related to the election's administration," she wrote.
Willis made a significant blunder when she hosted a fundraiser for a Democrat candidate for lieutenant governor. This took place while her investigation simultaneously zeroed in on the state's fake electors, which included Burt Jones, the Republican nominee for lieutenant governor.
McBurney said that created "a plain and actual and untenable conflict" and ruled that Willis could not question or pursue charges against Norman Eisen, who served as special counsel to the House Judiciary Committee during the first Trump impeachment. Eisen also co-wrote a Brookings Institution report analyzing the "reported facts and applicable law" in the Fulton County investigation came to Trump's defense.
"We learned from the identity of the witnesses that this is a far-ranging conspiracy that she's looking at" he said.
Willis is believed to pursue charges under the state Racketeer Influenced and Corrupt Organizations statute, commonly known as RICO. She has successfully used that law in the past to secure charges against Atlanta educators in a test cheating scandal and to target alleged gang activity.
Trump and his allies have consistently denied any malfeasance and have referred to Willis' investigation as a "strictly political Witch Hunt!"