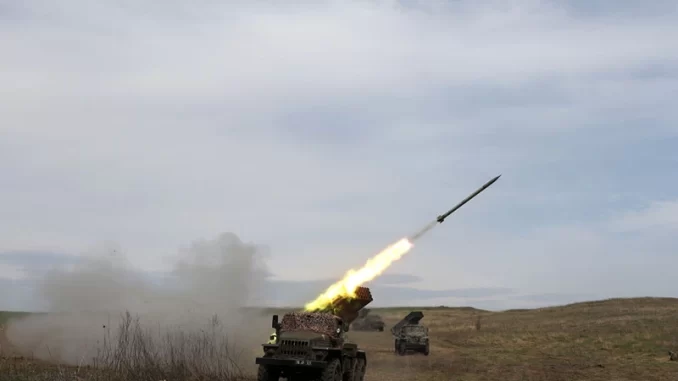 OAN Roy Francis
UPDATED 11:11 AM PT – Friday, December 30, 2022
Footage from Belarusian state television showed missile debris in a field near the border with Ukraine.
During a heavy Russian aerial assault on Ukraine, a missile was downed near the village of Harbacha on Thursday, about 9 miles from the border with Ukraine.
The secretary of Belarus' Security Council said that it was unlikely that the Ukrainian air defense missile had entered the Belarusian airspace by accident. He claimed that Kyiv is trying to start a regional conflict and will do anything to achieve their goal.
"Kyiv is striving to provoke a regional conflict by any means," Alexander Volfovich told the Russian state-owned outlet Sputnik Belarus. "An example of this is the recent incident with the destruction of the Ukrainian S-300 missile. There is little reason to believe that it entered our airspace by accident. By all appearances, it seems some plan was being realized here."
The Belarusian defence ministry said that its air defence had shot down the missile on Thursday while Russia was firing dozens on missiles at cities across Ukraine.
Kirill Kazantsev, an officer with the Belarusian missile defense forces, said that they are considering two scenarios.
"The first is an accidental launch [by Ukraine] of the air defense missile because of the low training level of the military crew or missile malfunction," he said. "The second is a deliberate provocation by the Ukrainian military forces."
The Kremlin has said that it was greatly concerned by the incident, while Ukraine's defence ministry reported that it was willing to invite experts from neutral countries to help investigate it.
Oleg Konovalov, the military commissar of the Brest region downplayed the incident saying that "unfortunately, these things happen."  He went on to compare it to the missile that landed in Poland last month and killed two people.

Belarus has close relations with Russia and had allowed Moscow to use its territory for preparation to begin the invasion of Ukraine in February.