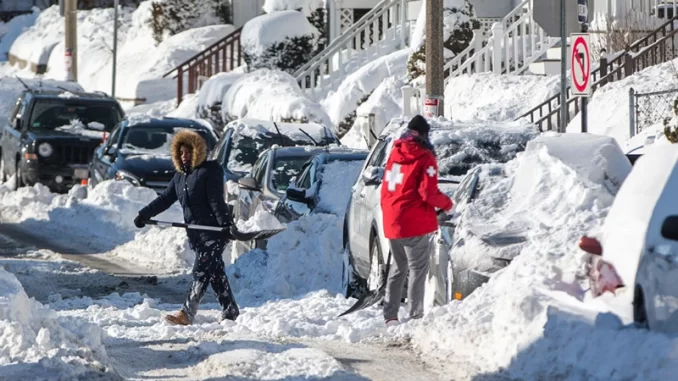 OAN Newsroom
UPDATED 1:35 AM PT – Wednesday, December 21, 2022
The upcoming "bomb cyclone" is supposedly happening "once-in-a-lifetime."
A developing "bomb cyclone" had alerted more than 90 million people. Wind chill alerts are in effect for more than 87 million. For portions of the plains and Midwest, the cold is likely to prevail through the Christmas weekend.
Meteorologists with the National Weather Service are calling this major winter storm a "once-in-a-generation event." It is estimated to be the coldest Christmas in roughly 40 years.
According to the American Automobile Association (AAA), during the period from December 23rd to January 2nd, over two million people are likely to travel at least 50 miles from home. Some of the biggest travel days of the year will be severely hampered by the predicted weather.
Forecasters advise that anyone who intends to travel to do so before Friday. Meteorologist Dan Kelly stated that the wind will keep growing stronger throughout the day switching directions.
"It's going to be treacherous," Kelly said.
On Wednesday night, the storm will leave the Rockies after intensifying.
Before moving south, the snow will first start to fall throughout the Dakotas, Minnesota, and Nebraska.
Before dawn on Thursday, accumulated snow could reach as far south as Colorado and Kansas.
During the weekend and into the following Monday, Jackson and Birmingham will each experience more than 80 hours below zero.
Between Thursday and Saturday, Houston might see 46 hours below zero. The freezing temperature will stay through the Christmas weekend before fading out next week.
On Wednesday, Governor Brian Kemp (R-Ga.) declared that the Peach State is in a state of emergency due to the upcoming "historic low temperatures" across the state. He thinks this advanced declaration will greatly help to people.
"Ensure that essential supplies, especially propane can be delivered for both commercial and residential needs," Kemp said.
A state of emergency was also declared by Kentucky Governor Andy Beshear (D-Ky.). He urged residents to stay off roads due to predicted wind gusts of 40 to 50 mph on Friday and wind chills of negative 10 to negative 26 degrees on Saturday.
More than 100 meteorologists on AccuWeather's team will keep provide updates on the storm, the Arctic air outbreak through this week and into the Christmas holiday.