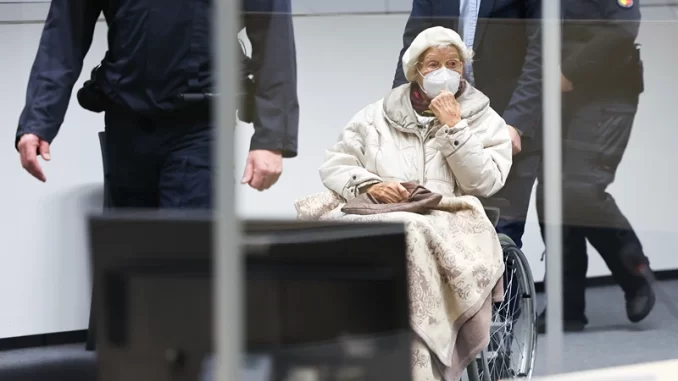 OAN Newsroom
UPDATED 4:15 PM PT – Tuesday, December 20, 2022
A former Nazi concentration camp worker, Irmgard Furchner, was sentenced for her role in thousands of murders committed during the Holocaust.
Irmgard Furchner was found guilty on Tuesday of complicity in the deaths of over 10,505 people at the Stutthof Internment Camp near Gdansk, Poland. She was sentenced to 2 years in prison.
The 97-year-old is also known as the "Secretary of Evil". She served as a typist and stenographer at the camp from 1943 through 1945.
Although Furchner's lawyer has repeatedly denied her knowledge or complicity in the Nazi regime's actions at the camp, Dominik Gross, the Judge at Itzehoe Regional Court in Northern Germany, determined that she was aware of the deadly goal of the camp.
Furchner went on the run ahead of her trial but was apprehended by authorities just hours later.
Investigators say that they had to prove her knowledge and lack of action when it came to the torture and murder of the camp's inmates.
State Prosecutor Maxi Wantzen commented on the famed Nazi.
"We had to prove what she wrote," Wantzen said. "We analyzed all the documents which still exist from the concentration camp and we searched for her signature and her initials which was an incredible amount of work which had to be done. You can't compare that to the trials against concentration camp watch guards." Maxi added, "After hearing the evidence, the court has decided that the accused through her work as a shorthand typist at the Stutthof concentration camp knowingly and willingly supported the cruel death of more than 10,500 prisoners."
Following the decision on Tuesday, Manfred Goldberg, a survivor, expressed her regret by saying that the 2-year suspended sentence felt insufficient.
"No one in their right mind would send a 97-year-old to prison, but the sentence should reflect the severity of the crimes," Goldberg said. "If a shoplifter is sentenced to two years, how can it be that someone convicted for complicity in 10,000 murders is given the same sentence?"