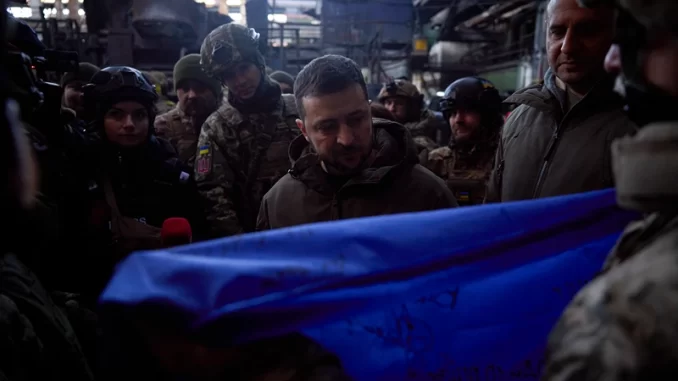 OAN Newsroom
UPDATED 4:52 PM PT – Tuesday, December 20, 2022
Ukrainian President, Volodymyr Zelensky is thought to be planning a visit to Capitol Hill on Wednesday night.
Sources from Fox News highlighted that due to the sensitive nature of this trip, there is a level of anonymity that must be followed. Zelensky's trip is planned, but it can still be called off for security purposes. If the Ukrainian leader's arrival goes off without a hitch, it would be his first trip outside of Ukraine since February before Russia's invasion.
The reason for Zelensky's appearance on Capitol Hill is to attend a Joint Meeting of Congress in the House Chambers and to meet with President Joe Biden.
Tuesday's Omnibus Spending Bill purposed $44.9 billion for emergency military and economic assistance to the Ukraine.
The Biden administration's intent was to send Ukraine some defense assistance that will include Patriot missile systems.
In anticipation for the visit, House Speaker Nancy Pelosi (D-Calif.) sent out a letter to her constituents.
"Please be present for a very special focus on Democracy Wednesday night," Pelosi wrote.
This visit follows a dangerous trip Zelensky had made to Bakhmut, Ukraine. The city of Bakhmut is considered the most action-packed spot on the 808-mile front line. His office released a video on this trip.
"The enemy is increasing its army, and our people are braver and need more powerful weapons. We will pass it on from the boys to the Congress, to the President of the United States," announced Zelensky.
The U.S. is expected to send precision bomb kits to Ukraine. These kits have the ability to turn the unguided munitions they currently have, which are called "dumb" bombs into "smart" bombs. The "smart" bombs will be precision-guided munitions, or better known was Joint Direct Attack Munitions (JDAMs).