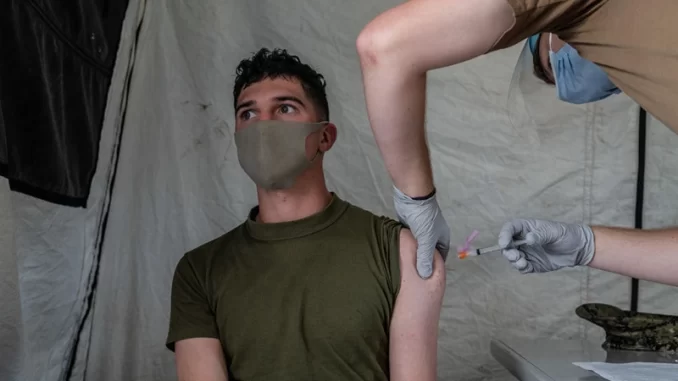 OAN Newsroom
UPDATED 6:37 PM PT – Thursday, December 15, 2022
The Senate has voted to pass sweeping legislations that would grant $858 Billion in national defense funding on Thursday. Part of these legislations is rescinding the U.S. military's COVID vaccine mandate.
The measure is a final negotiated version of the National Defense Authorization Act for fiscal year 2023. After passing the Senate and being approved by the House, it is now cleared for President Joe Biden's signature.  
$817 Billion of the $858 billion in the bill are specifically for the Department of Defense. This includes a 4.6% pay raise for military service members, a provision to strengthen air power and lad warfare defense capabilities, as well as cybersecurity. It also aims to raise U.S. support for Ukraine and NATO.
After congressional Republicans pushed for its repeal, the provision to rescind the military's COVID vaccine mandate was added.
"The end of President Biden's military COVID vaccine mandate is a victory for our military and for common sense." House GOP leader Kevin McCarthy (R-Calif.) said in praise of the provision.
The White House declined to clarify last week if Biden would sign the must-pass defense bill if it includes this provision. Instead, they reiterated that the president continues to support a mandate but also is leaving the door open to a repeal.
White House officials has deferred to and sided with Defense Secretary Lloyd Austin's opposition to rescinding the COVID vaccine mandate. This provision, being included in the final compromise agreement, underscores a reality that played out behind closed doors.
Democrats came to the conclusion that the GOP priority was a necessity for the bill to pass.
The Act does not actually appropriate the funds, rather it sets forth the Department of Defense's and the U.S. military's policy priorities and authorizes spending in accordance with those priorities.