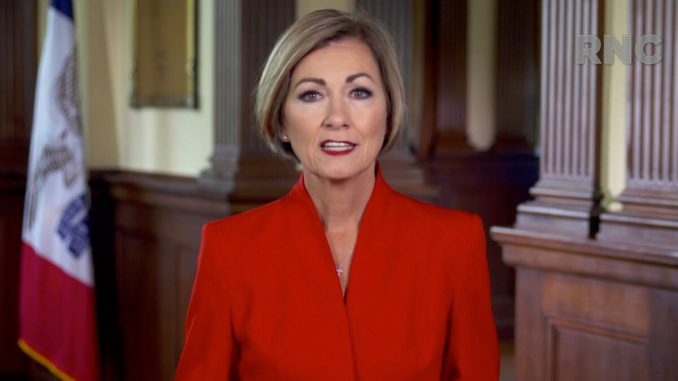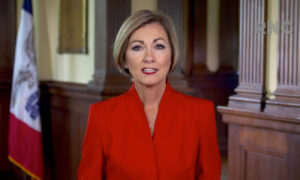 Iowa Gov. Kim Reynolds on Thursday signed a bill to ban mask mandates in the state's public schools, as well as in cities and counties, joining Texas.
"The state of Iowa is putting parents back in control of their child's education and taking greater steps to protect the rights of all Iowans to make their own health care decisions," Reynolds said in a release to news outlets.
"I am proud to be a governor of a state that values personal responsibility and individual liberties. I want to thank the Iowa Legislature for their quick work in bringing this bill to my desk so that it can be signed into law."
Reynolds signed the bill into law after midnight, after it passed the Republican-led Iowa legislature. The law bans mask mandates in K-12th grade schools, and prevents local governments from mandating masks in businesses.
Texas Gov. Greg Abbott had issued a similar order for the Lone Star state on May 18, saying that local governments that try to impose mask mandates can be fined up to $1,000, starting May 21. Meanwhile, schools are prohibited from mandating masks after June 4.
"Texans, not gov't, should decide their best health practices," Abbott said in a statement.
The two states' decision on mask mandates come just days after the Centers for Disease Control and Prevention (CDC) announced that people who are fully vaccinated against the CCP (Chinese Communist Party) virus can "resume activities without wearing a mask or physically distancing," including in most indoor areas. The federal agency also released an infographic that compares certain common activities that it deems safe or not safe for vaccinated compared to unvaccinated people.
The latest CDC guidance builds on its previous announcement on April 27, which said that people who are vaccinated could attend small gatherings outdoors and join in other outdoor activities without needing to wear masks.
As of Thursday 8 p.m. ET, more than 126 million Americans have been fully vaccinated, amounting to about 38.1 percent of the U.S. population.
A number of U.S. states have started seeing some days of no deaths due to the CCP virus in recent weeks, including Idaho, Minnesota, and Wisconsin. Texas, the second most populous U.S. state, saw a zero-death day for the first time since March 2020.