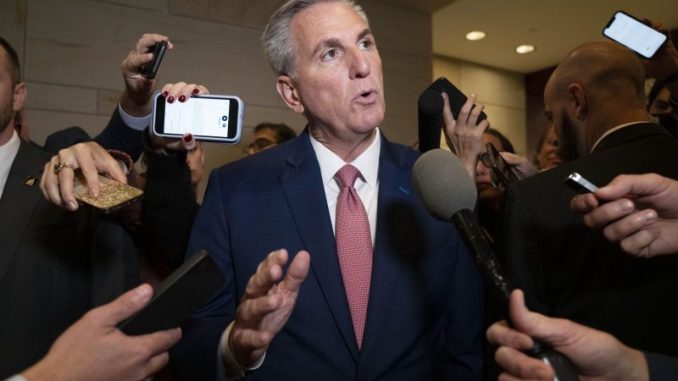 OAN Newsroom
UPDATED 4:18 PM PT – Tuesday, November 15, 2022
House Republicans have nominated Kevin McCarthy to be the next Speaker of the House.
On Tuesday during a closed-door meeting, McCarthy (R-Calif.) overwhelmingly won the nomination in a 188 to 31 vote. This victory comes after McCarthy faced a challenge from Representative Andy Biggs (R-Ariz.).
McCarthy was able to construct a diverse coalition of members to support him. Some of those members included Marjorie Taylor-Green (R-Ga.) and Brian Fitzpatrick (R-Penn.).  
"If we don't unify behind Kevin McCarthy, we're opening up the door for the Democrats to be able to recruit some of our Republicans," Taylor-Green said.
However, opponents such as Matt Gaetz (R-Fla.) do not believe that Kevin McCarthy should be Speaker because he lacks support.
"What I can tell you as I stand here right now is that Kevin McCarthy does not have 218 votes to become Speaker," Gaetz said. "I don't think he has 200."
McCarthy will need at least 218 votes from the full House, assuming all of the lower chamber's representatives are sworn-in, in January.