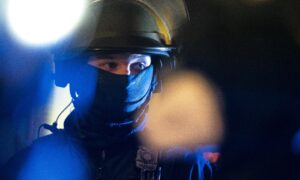 Police officers in Portland have responded to at least 359 shootings so far in 2021, as Oregon's city continues to see unprecedented levels of gun violence.
Preliminary statistics indicate that officers responded to 357 shootings, a Portland Police Bureau spokesman told The Epoch Times via email on May 7. That number does not count suicide attempts.
Ninety-five shootings involved an injury by gunfire, with 113 people being injured.
After the statistics were given, at least two other shootings took place.
On Friday afternoon, officers responded to a report of shots fired and found evidence of gunfire in the area of Northeast Prescott Street and Northeast 33rd Avenue. A short time later, an off-duty officer witnessed a gunshot victim being dropped off at a nearby hospital.
On Sunday morning around 1 a.m., officers heard of shots being fired and went to a home on Southeast Harney Street. They found "a chaotic scene, with what appeared to be a house party underway" and one person unconscious, the bureau said in an incident summary. The person was soon declared dead.
"People are being shot at a rate we haven't seen in Portland before," Lt. Greg Pashley, a Portland police officer, told KATU. "We know it's taking its toll on the community, and if there was some switch we could flip, we would love to put an end to it, but as long as people are willing to pull triggers, in those emotional heated moments to resolve their disputes, unfortunately, we're going to continue to see this sort of thing."
Pashley said any information that people can provide to police can help solve crimes.
Shootings and homicides spiked in Portland in 2020 following the death of George Floyd in Minneapolis. That was part of a trend in cities across the United States.
In the entire year, Portland saw 56 homicides. This year through April, 27 have already been recorded.
Commissioners last month approved $6 million to combat shootings, though none went to the police.
The largest chunk of the money was allocated to community organizations that work on intervention and other efforts related to shootings. Commissioners also approved funding to hire additional unarmed park rangers and for smaller groups that address the root cause of gun violence.
Police in Portland have struggled to respond to all 911 calls in a timely manner because of regular protests and riots that started in the wake of Floyd's death. Some calls have been put on hold for hours because of the number of officers required to deal with civil unrest.
Other cities have also seen higher murder rates so far this year. Chicago, for instance, recorded 195 homicides as of May 2. In 2020 through the same date, 160 murders took place. New York City saw 132 killings as of May 2, an increase from 113 the year before.