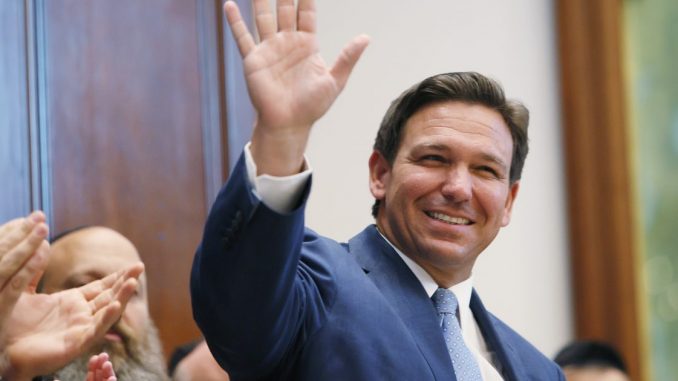 OAN Newsroom
UPDATED 1:55 PM PT – Thursday, August 4, 2022
In an effort to fight opioid crisis, the state of Florida is expanding recovery programs for substance abuse. Governor Ron DeSantis (R- Fla.) is hoping to "break the cycle of addiction" with the latest expansion of his network.
During a press conference on Wednesday at the Space Coast Health Foundation in Rockledge, the Republican announced what's ahead for his recovery model, which is known as the Coordinated Opioid Recovery (CORE) Network. DeSantis said he's taking the model, which has already seen successful results, and is bringing it to 12 additional counties.
Today we are expanding our Coordinated Opioid Recovery (CORE) Network program, a first-of-its-kind model of care for substance use disorders, to several counties across the state.

This model has been proven successful and will break down barriers for those battling addiction. pic.twitter.com/Yx8i8C3upD

— Ron DeSantis (@GovRonDeSantis) August 3, 2022
The Governor went on to claim that the fentanyl crisis has accelerated faster than any other drug epidemic in recent months. He warned that those who are putting fentanyl out onto the streets will go to jail.
"Fentanyl overdoes account for almost 70 percent of all overdoses in the state of Florida," he revealed. "Since 2015, fentanyl overdose deaths have increased by almost 800 percent."
Florida Surgeon General, Dr. Joseph Ladapo said state officials need to focus on helping people who suffer from trauma and stress due to drug addiction. He believes the Core Network will be the new standard.
"Ultimately what you would want to do is be able to help people," said Dr. Ladapo. "One day that will be the standard of care. I am certain of it."
This coordinated effort comes after the state of Florida reported nearly 2,000 fatal overdoes so far this year. Meanwhile, President Joe Biden's border crisis has led to the largest influx of illegal drugs in the nation's history.