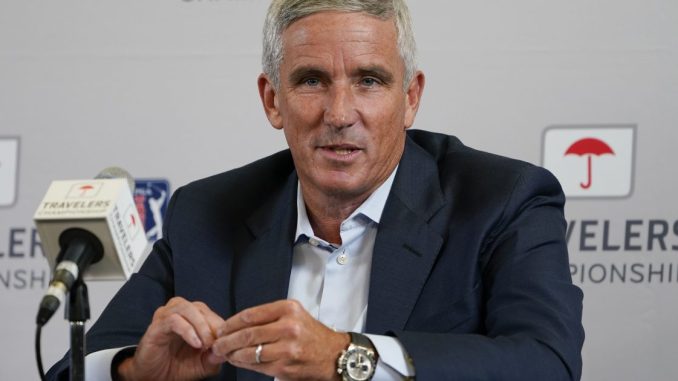 OAN Newsroom
UPDATED 5:50 PM PT – Thursday, August 4, 2022
Hall of fame golfer Phil Mickelson and ten other golfers filed a lawsuit against the Professional Golfer's Association Tour alleging it broke anti-trust law by suspending them from participating in tour events. The lawsuit filed Wednesday claimed the golfers have devoted the bulk of their professional careers to growing the PGA tour only to be repaid with suspensions, punishments and threats for merely playing professional golf for another organization.
PGA Tour Commissioner Jay Monahan declared any golfer that joined LIV Golf was ineligible to participate in PGA tournament play back in June. However, leading sports lawyers said the golfers have a strong case against the PGA.
"I read the complaint and read their motion for preliminary injunction," said Monahan. "It looks like a strong case to me. I think in one of the quotes that is attributed to the PGA Tour, no judge is going to like this quote that's in the motion for preliminary injunction, was alleged to have been made by a PGA representative, who said 'we hold all the cards, we don't want these guys playing, we don't care what the courts say."
The lawsuit also said the PGA Tour threatened to place lifetime bans on players who participate in any LIV golf event and threatened sponsors and agents to coerce players to abandon opportunities to play in LIV gold events. Monahan claimed the suspended players who are now Saudi Golf League Employees have walked away from the tour and now want back in. They said the association has no intentions to lose the case.
"Well, you could certainly do that if the golfers were employees," he stated. "But they're not employees and the way that the PGA Tour is organized, they're independent contractors. So, they're free to contract with the tour and there are free to contract with other entities under the anti-trust rules in the united states."
Here's the letter PGA Tour commissioner Jay Monahan just sent membership regarding today's lawsuit.

I see we're still going with "Saudi Golf League." pic.twitter.com/Ajv6VBsG9Q

— Dan Rapaport (@Daniel_Rapaport) August 3, 2022
The LIV golfers are asking a federal court to lift their suspensions and award them damages and attorneys fees.