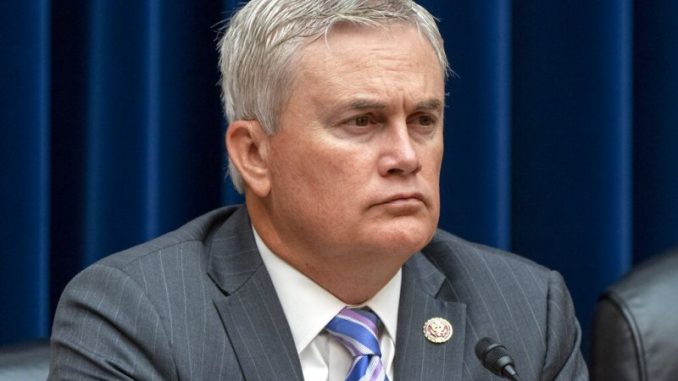 OAN Newsroom
UPDATED 1:20 PM PT – Monday, August 1, 2022
Congressman James Comer (R-Ky.) said he's looking into Hunter Biden's questionable foreign dealings. In a recent interview, the Kentucky Congressman said several banks flagged at least 150 financial transactions involving Hunter as suspicious.
"Text messages show that Hunter Biden was aware of these SARs and took steps to avoid detection in his financial dealings," Comer said.
Comer said this only happens when the bank has solid reasons to believe their client is involved in criminal activity. He added that the Biden administration may be running a cover-up for Hunter. The committee's Republicans who have been investigating the scandal-scarred first son's domestic and foreign business relationships and any effort to benefit from his father President Biden's influence said the SARs raise "serious questions about what these transactions were for and whether money was transferred to the Biden family from America's adversaries."
🚨NEW🚨@RepJamesComer presses Hunter Biden's financial advisor, Edward Prewitt, for information about the Biden family's foreign business deals that have triggered suspicious activity reports.

The American people deserve to know. https://t.co/UwTOzV2uyK

— Oversight Committee Republicans (@GOPoversight) July 27, 2022
"Committee Republicans are committed to following Hunter Biden's money trail consisting of many complex, international transactions worth millions of dollars," he stated. "The American people deserve to know the President's connections to his son's business deals, which have occurred at the expense of American interests and may represent a national security threat."
According to Comer, Prewitt and his firm managed the accounts of the first son's businesses, including Owasco PC, Owasco LLC, Skaneateles, and Rosemont Seneca Advisors, as well as Hudson West, "which has been used in transferring millions of dollars to Hunter and James Biden from CEFC, a company that's effectively an arm of the Chinese government."
WATCH: @RepJamesComer shares new details on the Biden Crime Family:

"A suspicious activity report is when the bank notifies the federal government that they have a strong suspicion of criminal activity by their client…Hunter Biden received at least 150 of these." pic.twitter.com/KnxFXhs5Xe

— House Republicans (@HouseGOP) July 30, 2022
"You have an obligation to the country to take these allegations seriously, immediately investigate and take steps to institute fixes to these and other matters before you," the senator voiced to the Biden administration officials.​
Comer also said his oversight committee is focused on investigating Hunter Biden and the probe is expected to intensify if Republicans take back the House in November.