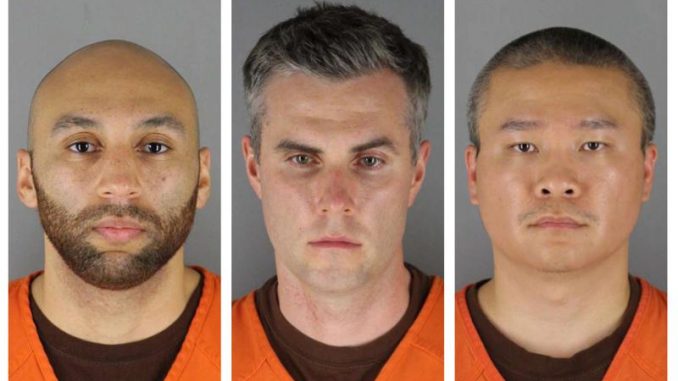 OAN NEWSROOM
UPDATED 6:56 PM PT – Thursday, July 21, 2022
A former Minneapolis police officer was sentenced for his role in the death of George Floyd. On Thursday, Thomas Lane was sentenced to two-and-a-half years in prison on a federal civil rights charge.
"Mr. Lane this is a very serious offense, in which a life was lost," U.S. District Judge Paul Magnuson said. "The fact that you did not get up and remove Mr. Chauvin when Mr. Floyd became unconscious is a violation of the law."
Reports said Lane was sentenced for failing to intervene though his attorney argued he was the least responsible for Floyd's death out of the four officers involved. This comes after former Minneapolis Police Officer Derek Chauvin recently pleaded guilty to violating Floyd's rights.
"It's insulting that he didn't get the maximum amount of time," voiced Philonise Floyd, one of Mr. Floyd's brothers. "If it was me and that was accessory to murder, they would've gave me the maximum amount of time. You're a police officer who was sworn to protect, who took an oath, and you didn't get the maximum amount of time."
Magnuson also ordered Lane to be placed on supervised release for two years after he serves his time in prison, a public information officer told Reuters. Meanwhile, the two other police officers were also convicted of the same charges and will be sentenced at a later date.
Former Minneapolis officer Thomas Lane's sentencing is over. We'll be back in court tomorrow for a hearing on Tou Thao and J. Alexander Kueng's, who are objecting to parts of their sentencing guidelines. (16)

— Jon Collins (@JonSCollins) July 21, 2022
During the trial, federal prosecutors argued that the three men knew from their training and from "basic human decency" that they had a duty to help Floyd as he begged for his life before falling limp beneath senior office Derek Chauvin's knee. Earlier in July, Chauvin was sentenced to 21 years in prison on federal charges of violating Floyd's civil rights.
Lane faces a separate sentencing Sept. 21 in state court after changing his plea there to guilty for a reduced charge of aiding and abetting manslaughter.