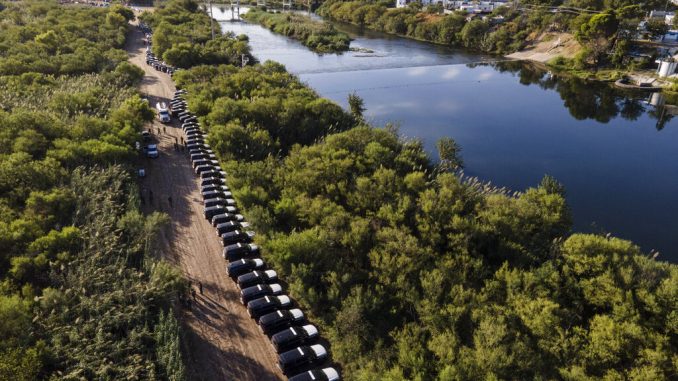 OAN NEWSROOM
UPDATED 5:05 PM PT – Monday, July 11, 2022
The ever-growing crisis at the southern borders reached new highs. A new Breitbart report showed Texas Border Patrol agents apprehended around 26,000 migrants in less than a week who crossed into border towns.
The recent spike in arrests prompted Governor Greg Abbott (R-Texas) to sign an "invasion" executive order allowing the Texas National Guard and Texas DPS to send those migrants back to the border where they can return to Mexico. He and other GOP politicians have piled blame onto the Biden administration for failing to secure the southwestern border.
"While President Biden refuses to do his job and enforce the immigration laws enacted by Congress, the State of Texas is once again stepping up and taking unprecedented action to protect Americans and secure our southern border," said Abbott. "The cartels have become emboldened and enriched by President Biden's open border policies, smuggling in record numbers of people, weapons, and deadly drugs like fentanyl."
The arrests took place in the Rio Grande Valley, Laredo, Del Rio, Big Bend and El Paso sectors. According to Monday's report, of the 26,000 migrants apprehended 10,000 were in the Texas border town of Eagle Pass. The Del Rio border sector saw the largest share with 12,000 migrants being apprehended by border agents there.
"As the challenges on the border continue to increase, Texas will continue to take action and address those challenges," he stated.
I issued an Executive Order authorizing the Texas National Guard & Texas Dept. of Public Safety to return illegal immigrants to the border.

Cartels have become emboldened by Biden's open border policies.

Texas is taking unprecedented action to STOP this criminal enterprise. pic.twitter.com/ag08ACYP3Y

— Greg Abbott (@GregAbbott_TX) July 7, 2022
In addition, 70 percent of the migrants apprehended in Texas were single adults.