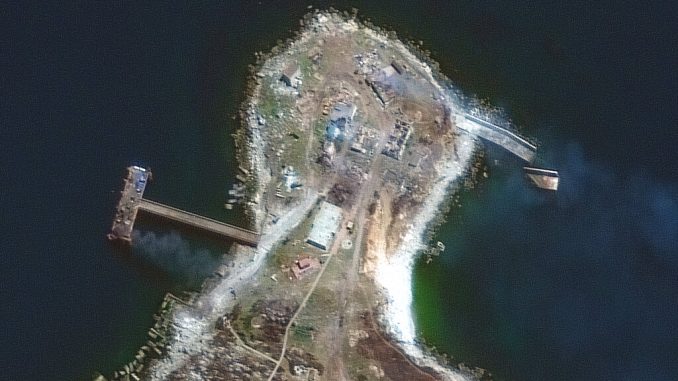 OAN NEWSROOM
UPDATED 11:12 AM PT – Thursday, June 30, 2022
Russian forces are no longer occupying Snake Island in the Black Sea, in turn, allowing Ukrainian ports to operate again. Either side told different stories about the exit Thursday with Ukraine suggesting they have forced the troops out after a massive artillery and missile assault overnight.
After Ukraine has defeated Russian invaders at the Snake Island, they present their retreat as a 'gesture of good will'. They always downplay their defeats this way. Partners should not be wary of providing Ukraine with more heavy weapons so that we liberate more of our lands.

— Dmytro Kuleba (@DmytroKuleba) June 30, 2022
However, the Russian Defense Ministry said they left the strategic outpost voluntarily, adding Ukraine can no longer speculate on any impending food crisis or say it is impossible to export grain.
"On June 30, as a gesture of goodwill, Russian Armed Forces completed their tasks on Snake Island and withdrew the garrison stationed there," stated Igor Konashenkov, spokesperson for the Russian Defense Ministry. "Therefore, we have demonstrated to the global community that Russia is not hindering efforts by the UN to organize a humanitarian corridor for the export of agricultural products from Ukraine."
Analysts suggest Russia could be planning a decisive operation out of the south region of Ukraine, which it has held since the early days of the war.