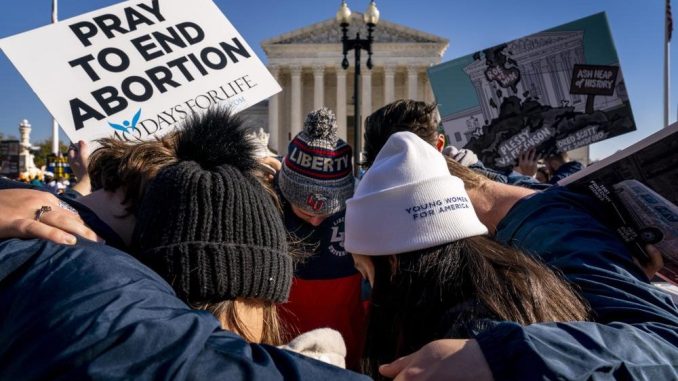 OAN NEWSROOM
UPDATED 7:45 AM PT – Friday, May 13, 2022
The violent actions of abortion activists forced a pro-life group to take new security measures. The organization hired security after being fire bombed by demonstrators. On Wednesday, the president of Wisconsin Family Action disclosed that armed security would be patrolling its premises to prevent any further attacks.
Early Sunday, vandals had attempted to ignite the group's office building. Graffiti at the scene verified the attackers intentions with the words "If abortions aren't safe, then you aren't either" inscribed on the building's exterior.
Group President Julaine Appling mentioned, the crime scene photos failed to capture graffiti also containing the numbers "one-three-one-two" standing for the phrase "all cops are bastards."
Despite the intimidation tactics, the WFA appears to stand it grounds with the notion it will not be bullied into submission. The decision to hire security was made to show radicals that another event like this will not happen again.
Appling also verified that a pro-abortion group has taken credit for the fire bombing.
"Whether they're the real group or not, are just crowing Jane's revenge, they claim that they're in every city," said the WFA President. "They're ready to do this to other groups, to public policy groups, to pregnancy care centers, so we want to make sure that doesn't happen. Nobody got hurt here, but there's no guarantee that if this happens somewhere else, somebody wouldn't be seriously hurt."
Over the weekend, Madison Police Chief Shon Barnes announced the incident is being investigated as arson and would not be tolerated in his jurisdiction.
"There's no place in Madison for any type of hate speech or any type of violence, or any type of property destruction to advance any cause," Barnes stated. "And if you're thinking of doing something like that, I would recommend that you not. It doesn't look good for your cause and it doesn't look good for our community."
Many Wisconsin Democrats have hesitated to condemn the attack with the offices of several Wisconsin lawmakers and representatives.  However Sen. Tammy Baldwin (D-Wis.) posted a tweet calling for whomever committed the deed to be held responsible.