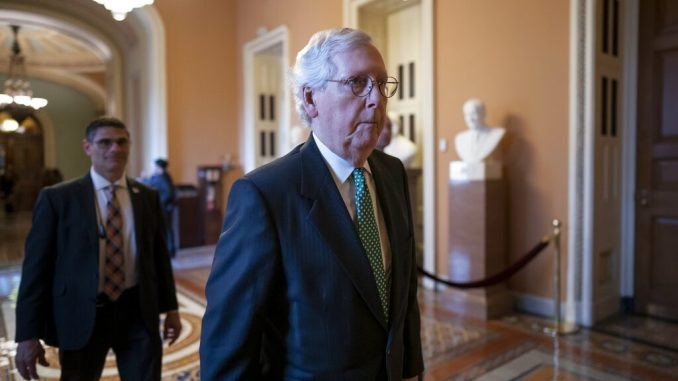 OAN NEWSROOM
UPDATED 9:01 AM PT – Thursday, May 12, 2022
A Democrat-led bill to force states to keep abortions legal has failed to advance in the Senate. Minority Leader Mitch McConnell (R-Ky.) confirmed the senators "duly chosen and sworn and not having voted in the affirmative, the motion is not agreed to." There were 49 "yes" votes compared the 51 "no" votes.
Today Senate Democrats attacked the right to life. But I'm happy and proud to say that their efforts were defeated. Senate Republicans stopped them. I will always stand for life.

— Rand Paul (@RandPaul) May 11, 2022
Senate Democrats fell short of the 60 votes needed to advance the Women's Health Protection Act after it passed in the House. Sen. Joe Manchin (D-W.Va.) and all 50 Republicans in the Senate voted against it. Democrats said the bill would codify Roe v. Wade and Senate Majority Leader Chuck Schumer (D-N.Y.) called the vote one of the most consequential in the upper chamber.
"Tens of millions of women are watching what will happen to the rights they've relied on for decades, and all of us will have to answer for this vote for the rest of our time in public office," he stated.
Republican leader McConnell described the bill as "extreme" and "radical."
"It ignores modern science, it is tone-deaf to public opinion," said the Kentucky lawmaker. "Nothing about their bill merely codifies the current case law on this issue. Their extreme proposal goes way, way beyond codifying the status quo."
The vote came one week after the leaked Supreme Court draft opinion, which signaled Roe v. Wade would likely be overturned. Since then, protests have erupted across the nation, including in front of the homes of Supreme Court justices…
The draft opinion would leave it up to states to determine their abortion policies. The Supreme Court is expected to hand down its ruling in late June or early July.
The Dems' vote today was an appalling attempt to pass legislation that would allow abortion on demand until the moment of birth.

As a staunch defender of life, I joined a bipartisan majority of my colleagues, including @SenatorLankford, in rejecting this radical bill.

Watch ⬇️ pic.twitter.com/h2fxZW72do

— Sen. Jim Inhofe (@JimInhofe) May 11, 2022