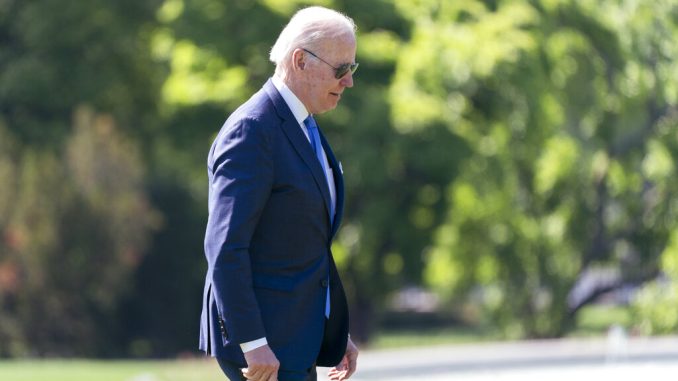 OAN NEWSROOM
UPDATED 7:49 AM PT – Thursday, May 12, 2022
President Joe Biden attempted to rally union workers and makes statements that are at odd with statistics as his administration faces record low approval ratings. On Wednesday, he delivered remarks at the International Brotherhood of Electrical Workers' 40th Annual Conference, which represents at least 775,000 workers and retirees in the electrical industry.
"If you all went on strike nationwide the country would shutdown…the middle class built this country, your plan was to build this economy around you from the middle up and the bottom down," Biden stated. "I'm so sick and tired of trickled down economics."
The President then falsely claimed that he inherited an economy on the brink of depression and described 45th President Donald Trump as the "great MAGA king."
"We inherited an economy on the brink of a great depression," Biden claimed. "Millions of people losing their jobs, losing their their homes."
According to the National Review, Biden's repeated claim about inheriting the worst economy in 90 years has "no basis in reality." The publication noted, the unemployment rate was lower when Biden first took office than the first five years of the Obama-Biden administration. In the third quarter of 2020, the GDP increased 33.4 percent and in the fourth quarter growth was at 4 percent.
At another point in Biden's speech, he falsely claimed his proposals will not cost taxpayers more money.
"There's so many things we can do, that don't do anything other than make the country better and don't cost taxpayers more money," he told the crowd.
However, an analysis by the Joint Committee on Taxation shows if Biden had passed his infamous Build Back Better bill, it would have raised taxes on Americans making less than $400,000 a year by 2023. Meanwhile on Wednesday, a new Consumer Price Index Report was released and found inflation surged to a higher than expected 8.3 percent last month, staying at its highest level in decades under Biden's watch.