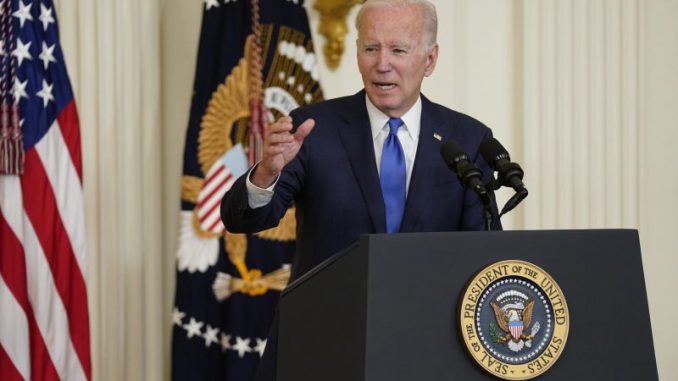 OAN Newsroom
UPDATED 12:18 PM PT – Thursday, November 3, 2022
A controversy on Twitter causes the White House to retract a statement.
On Wednesday, the White House tweeted that in 2023 Social Security checks will see their most significant increase in 10 years under President Joe Biden's leadership.
However, the platform Twitter, under the leadership of Elon Musk, allowed users to add details to the statement. Representative Thomas Massie (R- Ky.) was one of the good Samaritans who helped clarify that the Social Security check increases are being adjusted for inflation.
Therefore, the 8.7% increase in benefits is meant to hedge against the 8.2% year-on-year inflation in September. Social Security checks have not seen a cost-of-living adjustment of this magnitude since 1981.
Humiliated, the White House took down the post and entrusted capable White House Press Secretary Karine Jean-Pierre to explain why.
"The tweet was not complete, usually when we put out a tweet, we post it with context. It did not have that context," said Jean-Pierre.
The actions of the Federal Reserve also seem to disagree with the White House's assessment of the economy.
On Wednesday, Jean-Pierre announced the Central Bank is hiking interest rates another 75 basis points which will set mortgage interest rates at 7%. This is up from 3% in January. Such moves are usually taken to curb rampant inflation, making mortgages harder to obtain in order to stabilize prices.
Despite the Fed's actions, the Biden Administration continues to deny that the United States is currently in a recession. Still, most Americans are in disbelief, as 75% of the population believes that economic downturn already looms over the country.
Chief Political Correspondent Dana Bash shared her thoughts on CNN.
"And then there is the reality of how people are feeling," she said. "And they feel that they are in a personal recession in the everyday things that they have to do when they go to the grocery store when they buy fundamentals like eggs, like milk, like when they go to the gas pump and then everything in between. It's just so much more expensive"




Biden says he is sick and tired of hearing about trickledown economics. The president bragged that he's finally created an economy that works for working families.
"An economy that works for everybody," Biden said. "Through bold actions like these, we're taking our vision to reality. This is what it looks like when America comes together to get something done."
The White House has been keen to seize its perceived accomplishments, boasting that a 4th of July cookout was 16 cents cheaper in 2021 than in 2020. However, the administration neglected to give a similar update this year amid record-high gas prices.
Representative Kelly Armstrong (R-N.D.) balked at Biden's Social Security triumph, joking that the Surgeon General would explain that the high cost of eggs is good for Americans' health.