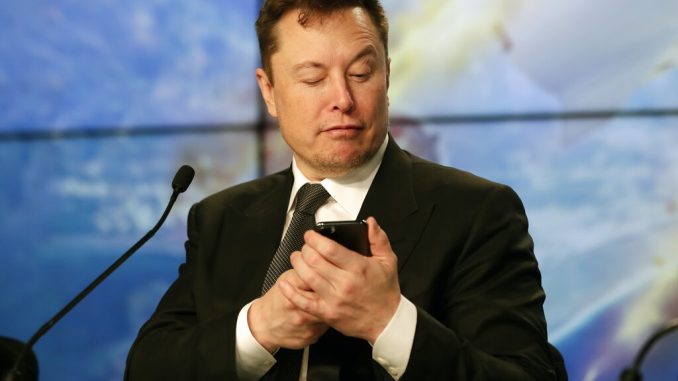 OAN NEWSROOM
UPDATED 9:49 AM PT – Wednesday, May 11, 2022
Democrat operatives have continued to decry Tesla and SpaceX CEO Elon Musk's takeover of Twitter after his latest remarks regarding 45th President Donald Trump. He appears to be causing another stir over who he will allow back in the Twitterverse.
While speaking at the Financial Times' Future of the Car Conference on Tuesday, Musk criticized the platform's move to permanently ban the former president after the January 6 protest at the US Capitol. He went on to say permanent bans should be extremely rare and only in cases where accounts are bots or for spamming users. Musk also said he would reverse a permanent ban on Trump's account.
"I think that was a mistake because it alienated a large part of the country and did not ultimately result in Donald Trump not having a voice," Musk pointed out. "He is now going to be on Truth Social as will a large part of the, sort of the right in the United States, and so I think this could end up being, frankly, worse than having a single forum where everyone can debate."
Democrat critics and mainstream media have already come out against Musk taking lead of Twitter amid his vow to return the company to its free speech roots. His latest comments have prompted the White House to respond, deferring the decision to revive Trump's account to the "private company."
White House Press Secretary Jen Psaki also pivoted while claiming the Biden administration is looking to clean up so-called disinformation on social media.
"What I will say, broadly speaking, is that our effort is to, of course, make sure that freedom of speech is protected across the country, but that also these platforms are not used for format, forums for disinformation," she stated. "And we have seen a history of that, not just on Twitter, but also on Facebook."
Meanwhile, Musk stressed he does not officially own Twitter yet and doesn't have sway over the company's immediate policies. He also reiterated, banning accounts will only drive those users to other sites that are void of diverse opinions and perspectives. Musk warned that outcome will create louder echo chambers, which he believes are worse than having controversial accounts operate on Twitter.
Twitter's founder, Jack Dorsey, said he agrees with Musk's statement saying permanent bans should only be implemented when accounts are engaging in illegal activities, media manipulation and spam.
I do agree. There are exceptions (CSE, illegal behaviour, spam or network manipulation, etc), but generally permanent bans are a failure of ours and don't work, which I wrote about here after the event (and called for a resilient social media protocol): https://t.co/fQ9KnrCQGX

— jack⚡️ (@jack) May 10, 2022
In the meantime, Musk detailed his plans to increase production of Tesla cars and send people into space. The tech giant said Tesla aims to make up to 20 million cars every month and SpaceX is hoping to send a manned mission to mars by 2030.