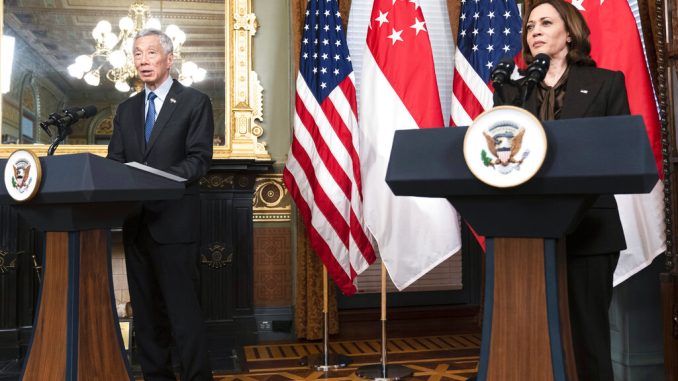 OAN Newsroom
UPDATED 7:33 AM PT – Wednesday, March 30, 2022
The Biden administration is grooming Singapore to be a top ally in the Indo-Pacific region. On Tuesday, President Joe Biden met with Singapore Prime Minister Lee Hsien Loong to bolster bilateral relations.
The two leaders discussed several security concerns in the region, including aggression from the Chinese Communist Party in the South China Sea, North Korea's increase in missile tests and ramifications of the 2020 military coup in Myanmar. Biden also noted the U.S. and Singapore are working together to ensure the region stays free, deepen economic ties and fight COVID-19 as part of a broad agenda they both share.
"I'm really proud of the partnership between Singapore and the United States," he stated. "It's as close and as strong as it's ever been. And together, we're working to uphold a rules based order, international order, supporting the founding principles of the United Nations and advance a future for the Indo-Pacific that is both free and open."
Prime Minister Lee added, the U.S. and Singapore have blossomed their more than 80-year partnership into one with massive influence in shaping and stabilizing the region. He stressed threats from China and spillover from the Russian war with Ukraine have cemented the need for international unity and multilateral cooperation. Lee further warned, if the Ukraine crisis continues then Indo-Pacific countries could see devastating economic and political consequences.
"There are potential flash points and contentious issues in our region too, which if not managed well could escalate to open conflict," stated the official. "Countries with interests in the region need to pursue all efforts to settle disagreements through peaceful means, so that we can avoid reaching a point of no return."
Watch live as Prime Minister Lee Hsien Loong of Singapore and I make a joint press statement. https://t.co/RSTR1xAB9q

— President Biden (@POTUS) March 29, 2022
Additionally, Vice President Kamala Harris met with Lee to discuss the modern concerns facing both the U.S. and Singapore. They touted several joint programs tackling how to bolster cybersecurity technology and others to explore the vastness of the universe.
"Singapore has signed the Artemis Accords, which aim to promote the peaceful, sustainable and beneficial use of space," Lee stated. "We are the first Southeast Asian country to sign on…so I'm very glad that the Vice President and I were able to meet again to discuss ways to take our partnership to even greater heights."
Last month, the Biden administration unveiled its strategy in bolstering ties between the U.S. and Indo-Pacific countries. The booklet vowed to strengthen the region's military and economic infrastructure, so countries can maintain their sovereignty and loosen China's grip on the region. Since then, top Biden diplomats and defense officials have traveled to several countries Indo-Pacific countries. The Pentagon even welcomed a delegation of Singapore defense officials recently.
Additionally, Biden was originally set to host several leaders from participating ASEAN countries this week, but that meeting has been postponed. However, Biden maintains further entangling relations with East Asian and Indo-Pacific countries will secure America's influence in the greater Asian continent for decades.