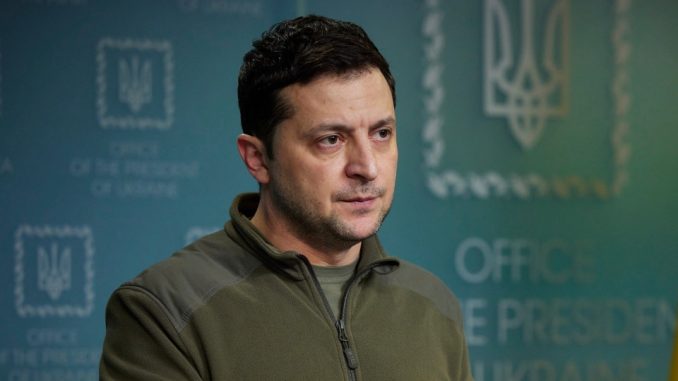 OAN Newsroom
UPDATED 9:07 AM PT – Monday, March 14, 2022
Volodymyr Zelesnky is determined Ukrainian forces will triumph over Russian soldiers. In a video statement on Sunday, the Ukrainian president said Russian missiles and aerial bombs hit the country from sunrise to sunset.
Despite this, Zelensky said Ukraine will win thanks to how they were able to unite their people and reiterated calls for NATO to execute a no-fly zone.
"And now I repeat again: if you do not close our skies, it is only a matter of time before Russian missiles fall on your territory, on the territory of NATO and on the homes of citizens of NATO countries," he asserted. "American journalist Brent Renaud was killed today in the Kyiv region. His colleague is injured. It was a deliberate attack by the Russian military. They knew what they were doing, but not everyone in the West seems to know what they're doing.
This comes after Pentagon officials said implementing a no-fly zone would not have prevented a Russian airstrike. Zelensky also said he hopes daily video conferencing between Moscow and his delegation will arrange a meeting with Russian President Vladimir Putin.
Additionally, the Ukrainian president is planning to virtually address the U.S. Congress on Wednesday morning. The event will take place at 9 a.m. Eastern time in the Visitor Center Auditorium and is only open to members of Congress from both Houses on a first come first serve basis.
INBOX: Pelosi, Schumer announce a virtual address by ZELENSKY to Congress on Wednesday. pic.twitter.com/7hnCoKLGjD

— Kyle Cheney (@kyledcheney) March 14, 2022
In a dear colleague letter Monday, House Speaker Nancy Pelosi (D-Calif.) and Senate Majority Leader Chuck Schumer (D-N.Y.) said Congress is in awe of the resilience of the Ukrainian people. Zelensky's address came after he spoke to parliaments across Europe and followed a Zoom call involving over 300 Congress members.