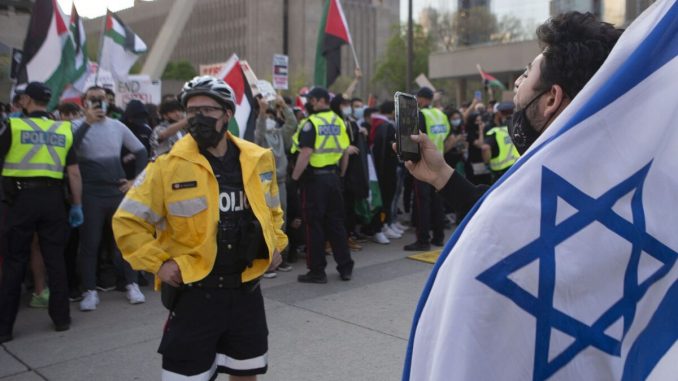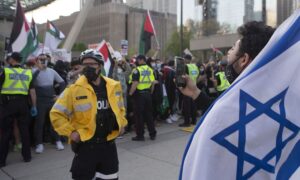 Since the recent escalation of fighting between Israel and Hamas, media reports of violence against Jews by anti-Israel activists during protests have rocked Canada's Jewish community.
Pro-Palestinian demonstrations in every major Canadian city have included attendees holding hate-filled signage and violent outbreaks. At Nathan Phillips Square in Toronto on May 15, chants were heard of "death to the Jews" and "we will finish what Hitler started."
"For the first time since the Holocaust, it is now socially acceptable again to be a Jew-basher," said educator Richard Bass, author of the book "Israel in World Relations" and director of the organization For Critical Thinkers.
Bass said in an interview that he believes this has come about because people "have become emboldened by the intolerant 'liberal left' ideologies that have gained more and more momentum."
Noting that "a group of protestors bearing a Palestinian flag swarmed and brutally assaulted a small number of pro-Israel demonstrators" at the Toronto protest, the Centre for Israel and Jewish Affairs (CIJA) and three other Jewish advocacy organizations condemned such violence as a "threat to Jews," saying that the instigators "threaten the very fabric of Canadian society."
"[These] alarming incidents … make it clear anti-Israel activists are seeking to use the current violence in the Middle East as an excuse to target Toronto's Jewish community for intimidation and hate," the groups said in a May 16 press release.
"Every time something happens in the Middle East, antisemitism rises," says Agnes Imani, director of Jews Against Antisemitism Canada.
Imani spearheaded a "road rally" down Toronto's Bathurst St. on May 13 in support of Israel. It was followed by a rally at Earl Bales Park, the site of a large Holocaust memorial, attended by 3,000 people.
The road rally saw a few incidences of pro-Palestinian activists physically harassing bystanders along the route.
"Whenever we're in bad times, war, politically, or corona, the Jews get blamed, regardless of what we do," Imani told The Epoch Times.
"In Nazi times, Jews were blamed because the economy was bad. Today, they turn anti-Zionism into antisemitism and again blame the Jew. It's political, now, because the state of Israel exists," she explains.
"My conclusion is, it's not about a battle for the land. It's about straight-out Jew hatred. They want to eliminate Jews, and the state of Israel—and we are one and the same for them. They hide their hatred of Jews in the hatred of Zionism."
'Glorifying of Violence and Dehumanization'
A press release issued on May 19 by the CIJA and the Montreal-based Federation CJA said there has been "an alarming number of provocative incidents targeting Jewish Montrealers." They include hateful language on signs at an anti-Israel rally, vandalism on the Israeli Consulate building, rocks thrown at a peaceful pro-Israel gathering, anti-Israel activists driving through Jewish neighbourhoods and yelling antisemitic slurs, and online threats against members of the Jewish community.
In a May 18 Facebook video, Liberal MP Anthony Housefather expressed concern for Montreal's Jewish community, saying "the level of hate that has been created because of events in the Middle East is something that we cannot tolerate in Canada."
Daniel Koren, executive director of Hasbara Fellowships Canada, an organization that educates students about Israel, notes that "advocating for Israel and fighting antisemitism become one and the same these days. All too often we see demonization of Jews and anti-Israel discrimination."
One example of how these hatreds intersected, he said, appeared on a recent TikTok video produced by two students at Wilfrid Laurier University. The young women, while dancing and celebrating, burned a paper Israeli flag and encouraged stabbing Jews.
"The glorifying of violence and dehumanization against Jews and Israelis is fuelled by hatred," Koren said in an interview. "It's not a matter of 'let's make peace and discuss.'"
Still, he thinks it's possible that some of these kinds of videos exist due to naiveté.
"These are children. A lot of times they're trying to be cool, fashionable, have shock value, be flashy. But they're foolish. But what happens [is that] it will fuel more hatred, discrimination, vandalism, and violence, making Jews even more unsafe."
Jonathan Allen, executive director of the Canadian Society for Yad Vashem, which is an arm of Jerusalem's Holocaust educational institute, also believes that at times people are acting out of lack of knowledge.
"There are those who truly hate Jews, and there are those who participate in antisemitism because they are ignorant of the issues and get their information from biased or incorrect sources, both through traditional and social media," he said.
"Education is the only answer with those who deep down do not hate, but are misinformed."