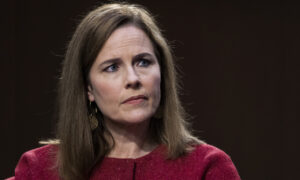 Three Democratic lawmakers are demanding that Supreme Court Justice Amy Coney Barrett recuse herself from an upcoming high-profile donor privacy case because one of the litigants spent money in support of her confirmation to the nation's highest court.
Nominated by then-President Donald Trump, the constitutionalist-conservative Barrett was confirmed by the U.S. Senate just before Election Day 2020. She replaced the liberal Justice Ruth Bader Ginsburg, who died Sept. 18, 2020.
The case, Americans for Prosperity Foundation v. Rodriquez, and a companion case, Thomas More Law Center v. Rodriquez, have been consolidated and will be heard together by the court on April 26.
Americans for Prosperity Foundation (AFPF) and its sister organization, Americans for Prosperity, are influential libertarian-conservative nonprofits funded by businessman Charles Koch and his late brother, David Koch, that have chapters throughout the nation. The Thomas More Law Center—not to be confused with the Chicago-based public interest law firm, the Thomas More Society—is a conservative Christian public interest law firm based in Ann Arbor, Michigan.
California regulations require charities to file a copy of their IRS Form 990, an informational return for tax-exempt organizations, annually with the state. Schedule B to the form contains the names and addresses of the top donors. While the form is made available to the public, Schedule B donor information must be kept confidential, under pain of federal civil and criminal penalties.
When a Schedule B is released to the public, identifying information about the donor is redacted.
Since about 2005, California has demanded that charities file with the state unredacted Schedule B documents, giving state officials the names of donors. The state's policy is to keep the information confidential, but there are no legal penalties for breaching confidentiality.
The charities concerned refuse to file their unredacted Schedule B documents with the liberal, Democratic Party-dominated California government because they don't trust its officials to keep the information secret. They say that their donors have in the past been harassed and been the victims of reprisals when their names became public.
A U.S. district court agreed with the charities and preliminarily enjoined California from requiring petitioners to submit their Schedule B forms. The U.S. Court of Appeals for the 9th Circuit reversed.
"All Americans should be free to organize around deeply held beliefs," Emily Seidel, CEO of AFPF, previously said. "Stripping citizens of their privacy is a tool wielded by some in political power to silence their opposition and stifle individuals from engaging in educational and charitable efforts.
Americans for Prosperity told The Hill newspaper in September of last year that it planned to spend somewhere in the seven figures on an advertising blitz to build support for Barrett's nomination.
In a three-page letter dated April 16, Sens. Sheldon Whitehouse (D-R.I.) and Richard Blumenthal (D-Conn.), along with Rep. Hank Johnson (D-Ga.), suggested this expenditure may cause Barrett to be biased in favor of AFPF.
"Statute, constitutional case law, and common sense all would seem to require your recusal," they wrote. "At a minimum, there should be a public explanation as to why you think recusal is not required under federal law."
"During your recent confirmation proceedings, you were asked in written questions whether you would recuse yourself from Americans for Prosperity Foundation v. Rodriquez … then pending on the Court's certiorari docket. You declined to do so, answering that 'as a sitting judge and as a judicial nominee, it would not be appropriate for me to offer an opinion on abstract legal issues or hypotheticals,' and that 'such questions can only be answered through the judicial process.'
"Because the Supreme Court has since granted the case, these questions are no longer abstract or hypothetical, so we renew the request.'"
Curt Levey, president of the Committee for Justice, told The Epoch Times the recusal request is "absurd."
"That's news to me that if a group supports you, that creates a conflict of interest. That's not normally how it's thought of and under normal precedent, conflict of interest would arise from if she had given money to AFPF, or she served on their board. You could even make a case—it would be a weak case—if she had spoken at one of their meetings, by that fact that they supported her. You don't get to choose who supports you," Levey said.
"In fact, if you want to take it to its logical conclusion, an organization could strategically force a judge or a justice to recuse themselves simply by supporting them."