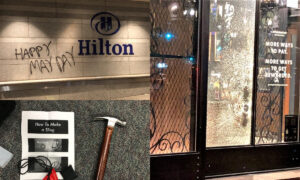 A riot in Portland took place on May 1, a day that holds significance for communists and other far-left ideologues.
A group of upwards of 100 individuals, many with shields, gathered in Shemanski Park between 9 and 10 p.m. and marched to City Hall, where they began smashing windows and using spray paint to scrawl various messages on the building.
Police officers declared a riot and ordered the crowd to disperse but the mob instead began marching in the streets, blocking traffic. They inflicted damage upon private businesses. Some members of the crowd used umbrellas to hide the crimes being committed.
Most of the group wore all-black with coverings obscuring their faces, a tactic commonly employed by far-left anarcho-communist group Antifa. Known Antifa accounts were promoting the "direct action" event on social media prior to it happening. Additionally, people who have been arrested at previous riots in Portland and people who have been linked to Antifa were at the riot on Saturday night.
Meanwhile, a group near the federal Immigration and Customs Enforcement facility in south Portland swelled to upwards of 60 just before midnight. As officers tried making an arrest, a man in the crowd pulled out a knife. The officers used munitions, prompting him to flee. He was soon caught and arrested.
At least five people were arrested on charges including riot, criminal mischief, and disorderly conduct. Officers found a hammer and a sling shot, along with instructions on how to make a sling shot, on one of the men.
Kristopher Donnelly, who has been arrested at least five times at riots, was among those taken into custody. He was charged by federal prosecutors with civil disorder. The man's federal trial has been delayed twice by a judge, court records show, and is currently scheduled to start on May 18. Conditions of his release stipulated that he not commit any other crimes.
"We appreciate those who engaged in their First Amendment rights this afternoon in a peaceful manner. Once again, under the cover of darkness, several dozen people decided to damage and destroy multiple businesses in our downtown area resulting in a riot," Portland Police Chief Chuck Lovell said in a statement.
"The situation became extremely dangerous when a man brandished a knife at officers when officers were simply doing their job. The officers appear to have exercised restraint and professionalism and safely apprehended this suspect. I am proud of all of our employees who worked to minimize further damage and arrest some of the criminals involved," he added.
Also on Saturday, police officers in Seattle arrested 14 people for crimes ranging from property destruction to assault and reckless driving committed during violent demonstrations.
Rioters threw bottles, rocks, paint-filled eggs, and other objects at officers, and threw lit flares into the road, the Seattle Police Department said in an incident summary.
The department did not name anyone arrested, only giving their ages and the charges they face.