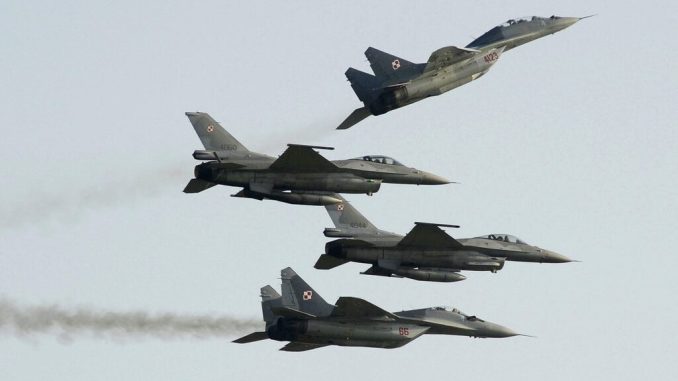 OAN Newsroom
UPDATED 1:30 PM PT – Friday, March 11, 2022
Several Senate Republicans continue to drill the Biden administration after denying Poland's proposal to send fighter jets to Ukraine. In a joint press conference Thursday, Senate Minority Leader Mitch McConnell (R-Ky.) expressed his frustration at the lack of urgency from Joe Biden's White House.
"This administration has been a step behind every, every step of the way, if you will," stated the Kentucky lawmaker. "Never quite doing things soon enough. The Ukrainians need airplanes and they need equipment to fight with of all kinds, much of it located throughout the eastern bloc countries of NATO. They need this assistance and they need it right now."
Additionally, Sen. Lindsay Graham (R-S.C.) accused the White House of abandoning an ally in its time of need.
"The Russians have backed the administration down," he stated. "When the Poles wanted our help in the transfer to have their back and did something pretty clever…all of a sudden these jets are going to be given by the Poles to defend Ukraine. We're now the tool for the Ukrainians to invade Russia. A squadron of MiG 29s. This stinks. This is dishonorable and we need to change course."
Fellow Sen, Tom Cotton (R-Ark.) also weighed in and said the U.S. isn't sending the right message to Russian President Vladimir Putin.
"Because if we continue, if we continue to blink every time Vladimir Putin says 'boo,' it's not going to stop in Ukraine," said the Arkansas lawmaker. "It's not going to stop in Europe. We might as well call the commanding general at Fort Lewis outside Seattle and tell him to go, take down the flag and surrender our position because we will never stand up to Russia if every time Vladimir Putin says 'boo' we back down."
Biden's decision to block Poland from sending MiG-29s to Ukraine is pathetic.

It's weakness, and the Administration's rationale makes no sense.

How are jets "escalatory" when we are already sending Javelin missiles?

— Tom Cotton (@TomCottonAR) March 9, 2022
The remarks came after the Pentagon called Poland's offer to give its Soviet-era fighter jets to the U.S. "untenable," further adding that involving the U.S. and a NATO air base would run high risk of escalating the war. At least a dozen senators have since urged Biden to reconsider such decision.