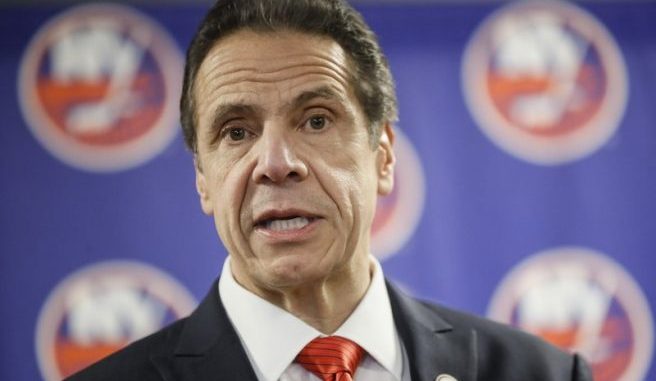 OAN Newsroom
UPDATED 3:50 PM PT — Thursday, May 7, 2020
Governor Andrew Cuomo has extended the state's eviction ban until August 20th. New York landlords will not be allowed to evict tenants who can't pay rent through the summer.
Additionally, landlords won't be able to charge tenants late fees, while renters will be allowed to apply security deposits to rent.
Today we are banning late fees and missed payments fees during the eviction moratorium period.

We are also allowing renters facing COVID-related hardship to use their security deposit as payment and repay the deposit over time.

— Andrew Cuomo (@NYGovCuomo) May 7, 2020
According to the governor, the next steps will be determined when the deadline is reached.
"I hope it gives families a deep breath, nothing can happen until August 20th," said Cuomo. "Then we'll figure out, between now and August 20th, what the situation is."
In the meantime, he confirmed struggling landlords can expect relief from banks and federal programming.
Meanwhile, a new study has suggested New Yorkers could be the cause of a second wave of coronavirus outbreaks. According to new reports, researchers who tracked the genetic makeup of the virus have said the high number of cases in the U.S. resulted from domestic spread.
Researchers believe many New Yorkers fled the Big Apple in March, when news broke about a mandatory shutdown in the city. According to a scientist from the Yale School of Public Health, roughly 60 percent of all cases in the U.S. can be traced back to New York.
City leaders came under fire in recent months for not taking action sooner. According to some, if protective measures been enacted earlier, the spread of the virus could have been less severe.
Researchers also analyzed cell phone data from several coronavirus hot spots around the nation, which revealed a rise of cases in areas that saw an influx in visitors from New York.
State officials have yet to speak out on these findings.
WATCH: Antibody Survey Suggests 1 In 5 New Yorkers Had COVID-19