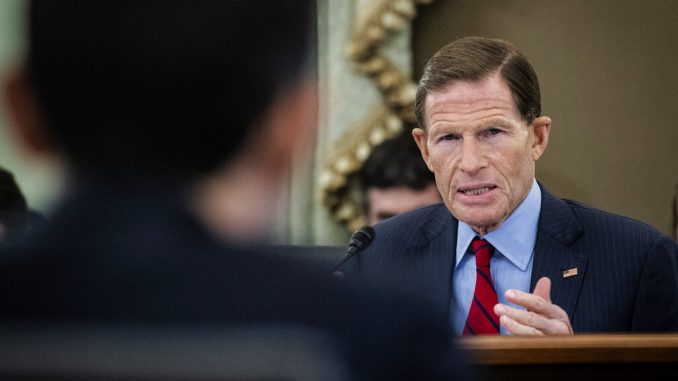 OAN Newsroom
UPDATED 9:06 AM PT – Wednesday, February 2, 2022
The Senate Commerce Committee held a hearing Tuesday to discuss ongoing fraud and price gouging that has been prevalent during the COVID-19 pandemic.
Sen. Richard Blumenthal (D-Conn.) said price gouging and scamming on the internet in relation to COVID prevention and treatment products, including on social media platforms, have continued to make profit at the expense of individuals lives. Additionally, he added its become a national challenge as there's a glaring lack of enforcement at the federal level.
"The FTC has received nearly 700,000 reports of fraud since the start of the pandemic," Blumenthal stated. "Approaching $700 million lost at each new phase of the pandemic, consumers have been inundated with more sophisticated scams."
Sen. Marsha Blackburn (R-Tenn.) added, it was important the government cracked down on these issues.
"It's absolutely essential that the federal government work with our state partners to crack down on bad actors who threaten the livelihood of some of the most vulnerable Americans," asserted the Tennessee Republican.
Blumenthal said the burden has fallen to consumers regarding "bogus" testing centers, counterfeit face masks and deceptive marketing schemes. He added, the FTC specifically needs to do more to combat it.
"I expect the FTC to refer cases to the Department of Justice and collaborate with states for criminal prosecution," he stated. "For these criminals, only prison time will act as a deterrent."
LIVE: Scammers are reprehensibly using the pandemic to profit at the expense of Americans trying to stay safe&healthy. At today's hearing I look forward to discussing with the FTC&witnesses tough reforms to protect consumers from fraud&price gouging. https://t.co/DdfNsKAOb4

— Richard Blumenthal (@SenBlumenthal) February 1, 2022
Meanwhile, a House hearing is expected to examine legislation to ban price gouging during the pandemic on Wednesday.