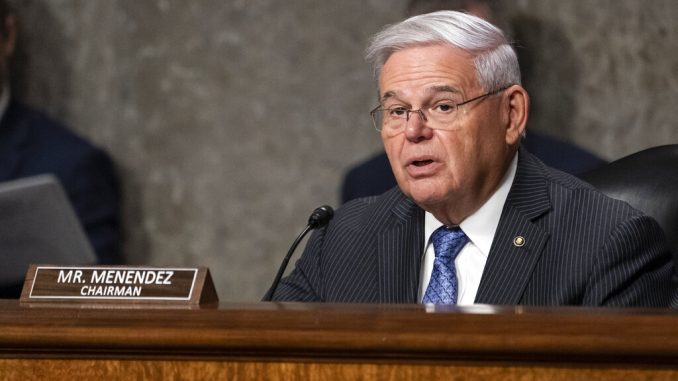 OAN Newsroom
UPDATED 6:58 AM PT – Monday, January 31, 2022
A bipartisan group of senators believe they are close to striking a deal on legislation for sanctions against Russia. Senate Foreign Relations Committee leaders say they are on the "one-yard line" to agreeing on measures that slaps sanctions on Russia amid mounting tensions over Ukraine.
Democrat Sen. Bob Menendez (D-N.J.) and Republican Sen. Jim Risch (R-Idaho) appeared on CNN Sunday to discuss their objectives and the status of those negotiations.
"If Putin sees weakness, if he sees bumbling, if he sees an ineptitude, if he sees indecision he will take advantage of that," said Risch. "I don't think he's made a decision to do that yet. What Bob and I and our coalition of bipartisan senators are attempting to do is to project the resolve that we have as Americans to see that he doesn't do that."
To this end, Sen. Menendez's version of the bill, which he calls the "mother of all sanctions," targets Russian officials and financial institutions if Russia demonstrates a significant escalation of hostilities against Ukraine.
"These are sanctions beyond any that we have ever levied before and I think that sends a very clear message," asserted the New Jersey lawmaker.
The world is fired up about this and we have considerable momentum from our #NATO allies. If #Putin invades #Ukraine, the consequences are going to be serious – there's no question about it. https://t.co/VteFVu8RR1

— Senate Foreign Relations Committee Ranking Member (@SenateForeign) January 26, 2022
However, timing is one point of contention when to actually impose sanctions on Russia. The Biden administration has maintained the position that it would wait to hit Russia with sanctions until they invade Ukraine while others like Sen. Risch want to impose them now, preemptively before such a breech can occur.
Yet, both senators believe there are certain sanctions that could take place up-front because of aggressions Russia has already demonstrated, including cyberattacks on Ukraine, false flag operations and efforts to undermine the Ukranian government internally.
"But the devastating sanctions that ultimately would crush Russia's economy and the continuing lethal aid that we are going to send, which means Putin has to decide aid how many body-bags of Russian sons are going to return to Russia," Menendez stated. "You know, the sanctions that we're talking about would come will later on if he invades. Some sanctions would come up front for what he has done already, but the lethal aid will travel no matter what."
Last week, Senate Democrats voted down Sen. Ted Cruz's (R-Texas) legislation proposed sanctions on the Nord Stream 2 pipeline. The 745-mile pipeline is valuable because it would pump gas from Russia to Germany under the Baltic Sea, cutting transit costs for Russia by completely bypassing Ukraine.
Sen. Risch indicated that the Foreign Relations Committee hasn't yet come to agreement on what to do with regard to the pipeline, adding that will be the last t-crossed and i-dotted before "putting the ball in the end zone."