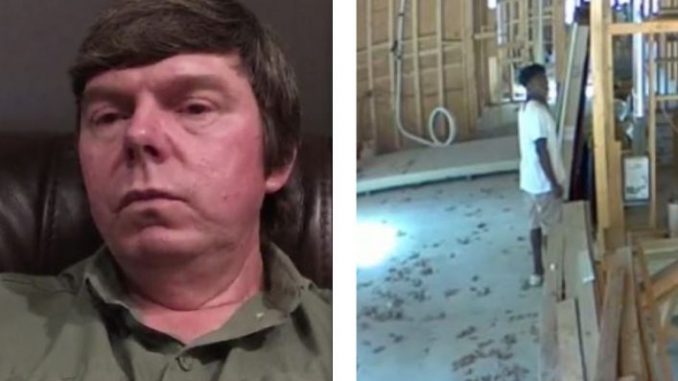 OAN Newsroom
UPDATED 5:30 PM PT — Wednesday, May 13, 2020
The owner of a Georgia home, which was under construction in the neighborhood where Ahmaud Arbery was shot and killed, has spoken out.
During an interview this week, Larry English confirmed his home surveillance video seemed to show Arbery on his property on the day in question, but did not report any crime. English added he does not believe Arbery stole anything and claimed the motion-activated camera installed at the site captured no criminality.
The footage was captured just moments before Arbery's death and appeared to show him looking around the home before leaving.
English claimed he wanted to set the record straight, emphasizing he had never shared the video or any information with Greg and Travis McMichael, the father and son who allegedly killed Arbery.
"I don't want it to be put out, misused and misinterpreted for people to think that I had accused Mr. Arbery of stealing or robbery, because I never did," he said.
He added he had not seen the footage before Arbery was confronted by the McMichaels.
According to a statement by his attorney, English never stated that Arbery was the person in the video. He has since questioned the resemblance between the person in the tape and Arbery.
This came after the suspect, Greg McMichael, claimed there had been a string of break-ins and that Arbery had looked like a suspect caught on surveillance video. However, Glenn County Police announced there had been no reports of burglaries in the area from the beginning of January to the time of the Arberys' death.
English condemned the actions by the McMichaels and said "the only crime that the homeowner has seen captured on video is the senseless killing of Mr. Arbery."
"I'm deeply sorry for the family and their loss," he stated.
In the meantime, Arbery's mother continues to fight for her son. She has called for the death penalty for the those responsible.
"You know, my son was shot and killed. Ahmaud wasn't given a chance, he wasn't given a chance to live. He chose to fight and still was killed. So, I think that they should get what Ahmaud got."
– Wanda Cooper Jones, mother of the victim
Concerns have been raised as to why, for weeks, the case was passed down between prosecutors with no arrests. A fourth prosecutor had to be assigned to the case and federal authorities are now looking to see if hate crime charges apply.
The Georgia Bureau of Investigation has said it will be looking into prosecutorial misconduct.
RELATED: Handling Of Arbery Case Under Fire, DOJ Requested To Investigate