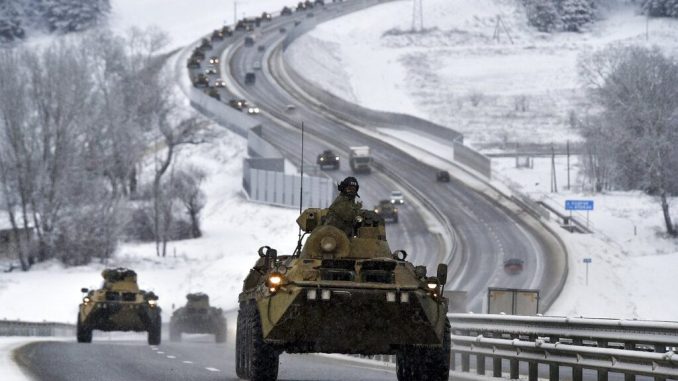 OAN Newsroom
UPDATED 1:52 PM PT – Thursday, January 20, 2022
Joe Biden issued a new round of threats against Russia as he repeats claims of an alleged Russian invasion of Ukraine. In a statement Thursday, he tried to walk back his Wednesday remarks about a "minor incursion" and threatened "consequences" if Russian troops crossed into Ukraine.
Biden said Russia would face a "severe and coordinated" economic response if that were to happen. However, White House officials have struggled to explain what they would actually do in that scenario. Biden also threatened a U.S. response to Russian paramilitary actions and cyber attacks.
"Remember when they moved into the Donbas, the little green men?" he asked. "They were dealing with those who were Russian sympathizers and said that Russia had nobody in there. Well, that includes little green men in uniforms as well as cyber attacks. We have to be ready to respond to these as well, in a decisive and united way, with a range of tools at our disposal."
We want to remind the great powers that there are no minor incursions and small nations. Just as there are no minor casualties and little grief from the loss of loved ones. I say this as the President of a great power 🇺🇦

— Володимир Зеленський (@ZelenskyyUa) January 20, 2022
The Russian foreign ministry said rhetoric is designed to frame the narrative to justify provocations in Ukraine and blame Russia for it.
💬#Zakharova: The West does not see any inherent value in Ukraine & views it as a geopolitical bridgehead against Russia.

☝️Pro-Western Ukrainian elites provoked a civil conflict in the country & split it apart in 2013-2014 for the sake of the mythical promise of EU membership. pic.twitter.com/JNviYTa9za

— MFA Russia 🇷🇺 (@mfa_russia) January 20, 2022
Meanwhile, Vice President Kamala Harris said Russia will face severe costs if it takes military action against Ukraine. She made those remarks during an interview Thursday morning. Harris claimed the Biden administration has been clear and consistent in its stance on the matter.
"And on the subject on Ukraine I will tell you that the President has been very clear and we as the United States are very clear: if Putin takes aggressive actions, we are prepared to levy serious and severe costs," Harris stated.
Still, Biden's initial comments have led to speculation Russia could feel empowered to launch an invasion of Ukraine in coming weeks.