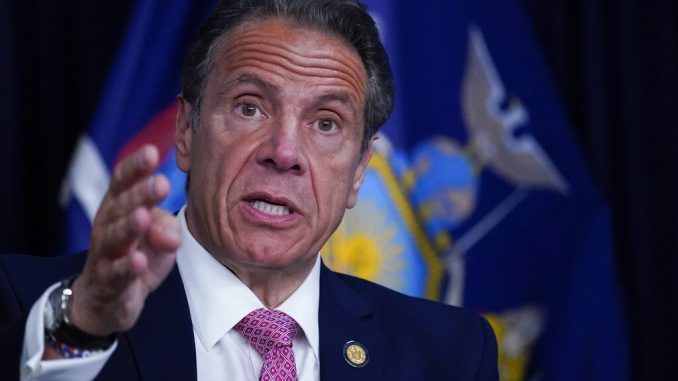 OAN Newsroom
UPDATED 9:15 AM PT – Friday, May 21, 2021
New York Gov. Andrew Cuomo has revealed he was paid $3.1 million in advance to write his memoir titled American Crisis: Leadership Lessons From the COVID-19 Pandemic. In addition, Cuomo is on track to earn another $2 million on the book over the next two years. This would put his overall profits at a whopping $5.1 million.
The book is reportedly based upon his leadership over the course of the pandemic. Yet, critics say they are disgusted with his profit-making memoir because they say it is all based on lies.
The New York Democrat is currently facing multiple high-profile investigations over his blunders as New York's governor.
Cuomo is currently being subjected to a federal probe over allegations that his administration covered up thousands of COVID-19 deaths in New York nursing homes in 2020. Many suspect these deaths were linked to Cuomo's policies after he ordered early in the pandemic for people who had already contracted and recovered from COVID-19 to be housed in nursing homes.
New York Gov. Andrew Cuomo says he will earn about $5 million for a book on leadership during the pandemic. The Democrat had for months declined to say how much money he made from writing "American Crisis: Leadership Lessons From the COVID-19 Pandemic."https://t.co/LBXPbDyxtP

— The Associated Press (@AP) May 17, 2021
Reports allege his administration knew about this catastrophic failure for months and actively tried to prevent the New York State Health Department from releasing the actual coronavirus numbers. In January of 2021, New York Attorney General Letitia James released a report alleging Cuomo undercounted the number of nursing home deaths by as much as 50 percent.
Cuomo is also facing calls to resign as at least 10 women have come forward with sexual harassment claims. Cuomo has since addressed these allegations stating, "I now understand that I acted in a way that made people feel uncomfortable. It was unintentional and I truly and deeply apologize for it."