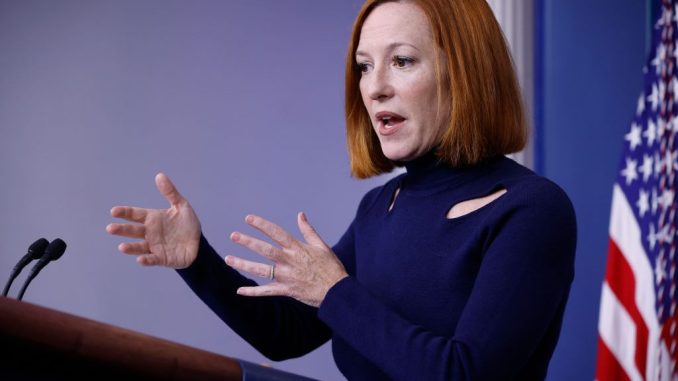 OAN Newsroom
UPDATED 3:34 PM PT – Sunday, December 19, 2021
White House Press Secretary Jen Psaki blamed the meat industry for increasing prices, despite the country's worst inflation in almost four decades.
During a recent press briefing, Psaki blamed meat conglomerates' greed, adding they're taking advantage of the pandemic to increase prices on goods to make a profit. She explained how Americans experience inflation by seeing price increases on everyday goods like meat and groceries.
"If you look at industry to industry, it's a little different. For example, the President, the Secretary of Agriculture, have both spoken to what we've seen is the greed of meat conglomerates. That is an area, one where people go to the grocery store and they're trying to buy a pound of meat, two pounds of meat, 10 pounds of meat…the prices are higher," said Psaki.
White House inflation timeline:
There is none
It's transitory
It's a high-class issue
It's temporary
It isn't transitory…
It's meat producers' fault
She knows vegetable, gas, and energy prices are up too? It's NOT big or small business greed—it's big government and bad policy. https://t.co/fYWR16EGb3

— Rep. Steve Womack (@rep_stevewomack) December 16, 2021
She noted global supply chain issues have also contributed to rising prices, but claimed the Democrats' Build Back Better plan would have an immediate impact on inflation in the future.
"Well, 56 economists say that Build Back Better will help quote alleviate some of the strain caused by inflation," Psaki claimed.
According to recent data released by the Labor Department, Americans making less than $50,000 have the highest inflation expectations with the median one-year outlook at 6.3 percent. In the meantime, the cost of consumer goods reportedly rose at an average of 6.8 percent in November, marking a four-decade high.