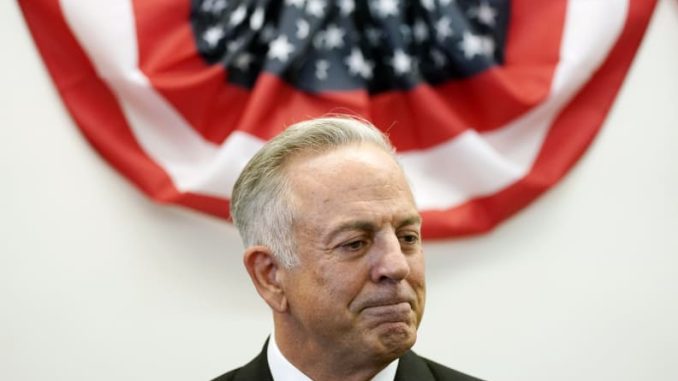 OAN Newsroom
UPDATED 3:42 PM PT – Wednesday, December 15, 2021
Two Republican candidates in Nevada's gubernatorial race are leading over Democrat incumbent Gov. Steve Sisolak in hypothetical match-ups.
A survey released earlier this week by polling firm OnMessage Inc., showed 51 percent of respondents support Clark County Sheriff Joe Lombardo compared to 41 percent for Sisolak. In the meantime, former senator and Nevada Secretary of State Dean Heller has held a 6-point lead over the incumbent, at 49 percent to 43 percent.
"I'm standing here to announce my candidacy for governor because if we don't put an end to the single party rule eroding our state of the values, laws and opportunities to make Nevada great, we won't have a whole lot left to fight for," said Lombardo.
Both Republicans have vowed to take back the state and put an end to Sisolak's administration.
NEW: @JohnAnzo / ALG Research (D)

2022 #NVGov GE
(D)* Steve Sisolak 47% (+2)
(R) Joe Lombardo 45%

(D)* Steve Sisolak 47% (+3)
(R) Dean Heller 44%

Gov Sisolak Job Approval
Approve 52%
Disapprove 44%

800 LV | 12/1-12/7 pic.twitter.com/KMIERUlUEp

— PPUSA (@PollProjectUSA) December 15, 2021
"Nevada is and will be a competitive battleground state. It was in 2018, it was in 2020, and it will be in 2022," said John Anzalone, the governor's pollster, in an interview. "It will be a very competitive race that we are not taking for granted."
Sisolak was leading in earlier polls, but the current survey shows him losing support ahead of the 2022 midterms.