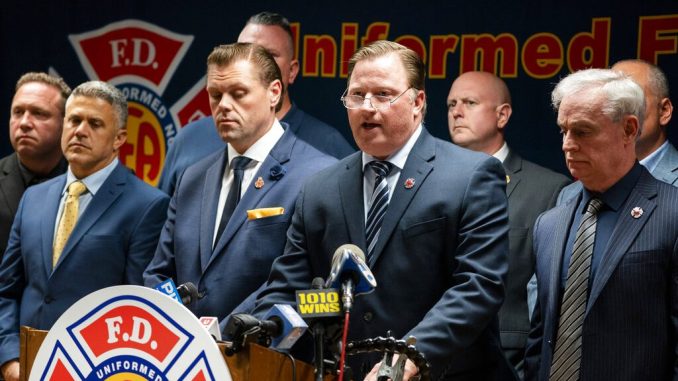 OAN Newsroom
UPDATED 9:06 AM PT – Thursday, October 28, 2021
The union representing New York City firefighters has vowed to fight against the city's vaccine mandate.
The primary union representing firefighters in New York City has continued to fight against the city's vaccine mandate deadline after failing to come to an agreement for an extension with the New York's Office of Labor Relations. The head of the Uniformed Firefighter Association vowed on Wednesday to keep fighting for an extension on the Nov. 1 deadline and encouraged all unvaccinated workers to continue working.
Despite Mayor Bill de Blasio's (D-N.Y.) order, Union President Andrew Ansbro said he hopes to come to an agreement to extend the deadline as soon as Friday.
"I don't think the mayor understands what's going to happen on Nov. 1. There is going to be a catastrophic manpower staffing shortages," said Ansbro. "I was told that because that manpower, staffing shortage, if 3,500 firefighters that are currently unvaccinated are told to not go to work."
Last week, de Blasio announced city workers must be vaccinated by Nov. 1 or they will be placed on unpaid leave.
NEW YORK: Andrew Ansbro, President of the Fire Fighters Association says even if his members opt not to get the jab they should still report to work and he refuses to enforce the vaccine mandates. pic.twitter.com/6B9tw4tG3I

— Apex World News (@apexworldnews) October 26, 2021
Ansbro criticized city officials for their treatment towards the fire department after their constant dedication to the city throughout waves of the pandemic. He emphasized how firemen feel "insulted" by de Blasio's mandate and added workers who struggle to decide if they want the vaccine, want the right to make the decision for themselves.
The head of the union also stressed how New York City firehouses are already facing staffing shortages and have struggled to stay open.
"This city is going to look very different on Nov. 1 when the mayor is going to force firefighters to not get on the rig. You're going to see dozens and dozens of firehouses closed. You're going to see response times climb," explained Ansbro.
Meanwhile, roughly 40 percent of the city's firefighters are fully vaccinated and reportedly most of the unvaccinated were previously infected with the virus, giving them antibodies.
The union plans to challenge the mandate in court within the next couple of days.